Get ready to conquer every gaming world and emerge superior with the powerful and performance-packed Predator gaming system. Every serious gamer knows that battles are won by having a ruthless ally on your side. It can keep its cool on every extreme gaming session and it will definitely not bail you out on lagging behind the intensity.
Unleash the proud and beastly warrior in you with the most ferocious Predator line yet. Predator brought to the fore tablets, projectors and monitors that utilize uniquely powerful technology so you can #ConquerNewWorlds and bask in triumph of that powerful gaming experience. These competitively priced gaming products with superb specs will definitely have a massive effect on every galaxy you explore, strike fear in the deepest and darkest dungeons, overrun fierce armies, and hack off the heads of horrific zombies with its powerful performance, arresting designs and other bonuses so gamers cannot ask for more.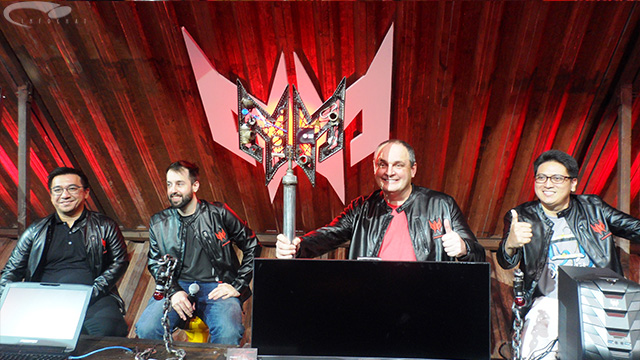 Photo Caption: (L-R) Mr. Jerome Matti – NVIDIA Consumer Sales Manager and Global Representative, Mr. Steven Funcke – Predator Marketing Manager and Global Representative, Mr. Calum Chisholm – Country Manager of Intel Philippines and Mr. Miguel Molina – Senior Product Manager for Xsplit in the Philippines
The Predator G3-710, for example, comes with cutting-edge 6th generation Intel Core processors and latest NVIDIA GeForce GTX graphics cards and clad in an armor-like body. Cut out for every universal gamer, it looks and sounds formidable in every way, an unstoppable war machine with the IceTunnel feature that keeps this overworked behemoth icy all the time, a 4K2K resolution for absolutely clear video details, plus SoundBlaster Cinema 2 and EAX 5.0 for unbelievable sound quality and effect for that outstanding gaming experience.
On the other hand, don't be deceived by the size of the Predator G1 for it packs a powerful punch in its one liter armored frame. Get crisp view of the battlefield with its NVIDIA GeForce GTX graphics card as lights up this pocket-sized powerhouse PC, while you roar your aggression with its sound-reactive Growl Lights and snarl with power through its 6th generation Intel Core i7 processor. Startle your enemies as well with the Predator G1's 4TB hard drive, a monumental storage bin for your ferocity and strength.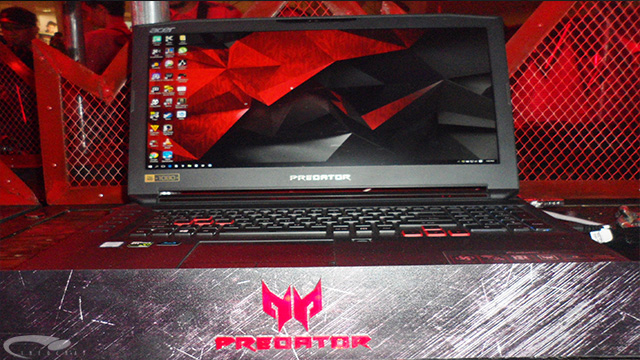 Predator 15
While enjoying the power of the Predator on desktops, a laptop like the Predator 15 is undeniably marvelous with its powerful 6th generation Intel Core i7 processor, extremely impressive graphics and likewise superior cooling feature fit for extended gaming sessions with allies, or adversaries. The triple-fan system and Predator FrostCore, a swappable fan design, help keep this monstrosity cool to keep heat down while performance is ramped up. The killer DoubleShot Pro feature is a superb network solution that optimizes bandwidth so that playing online will be much fiercer. The ProZone keyboard gusts with absolute gaming accuracy while the Predator DustDefender boasts of the world's thinnest fan blades and CoolBoost to enhance cooling power.
For the mobile, strike-anywhere with the Predator 8 GT-810 is for you. This daredevil gaming tablet is definitely a pushover when it comes to gaming with its burly Intel Atom x7-Z8700 processor and Intel HD Graphic Gen 8-LP GPU. Send a deafening battle cry with sound quality from the Acer Quadio for life-like virtual sound and Dolby Audio for enhanced media, or choose the best video and audio scenario for your games, movies, music or parties to keep you or your friends glued to the game with the Acer MediaMaster. Get that immersive video experience with its 8-inch Full HD display with Zero Air Gap and IPS technology for wide viewing angle ferocity and Acer Prism provides ultra color with NTSC 100% display for an unusual and vivid color experience.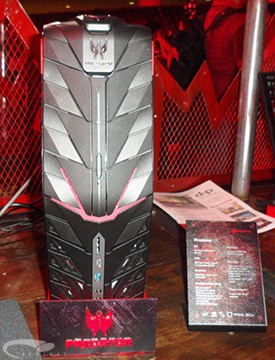 Predator G3
Make your gaming experience even more epic any time of the day with the Predator X34, the world's first 34-inch curved gaming monitor. Yelp to your heart's content as you are drawn deep into the action with the X34's IPS display with 21:9 aspect ratio for wide-angle viewing with the NVIDIA G-SYNC technology to remove screen tearing. It has two built-in 7W DTS speakers for realistic audio, overclocking refresh rate to 100Hz, GameView OSD setting, plus EyeProtect feature to lessen eye fatigue and keep you gaming on and on.
Finally, the Predator Z650 short-throw projector gives life to any gaming party. Display huge, 100-inch clear images and videos from as close as 1.5 meters. Feast your eyes on its 1080p full HD resolution with 20,000:1 contrast ratio to make blacks extremely black and whites brilliantly white in your virtual battlefield. The ColorPurity feature produces wide color gamuts and sRGB removes color deviation while ColorBoost3D and ColorSafeII provide the dazzlingly brilliant colors in your games. Audio quality is truly a blast with its two 10W DTS Sound speakers but you can also connect wirelessly to Bluetooth-enabled wireless speaker systems, or even play 3D games through the NVIDIA 3DTV Play and connect to 3D-enabled devices for that stereoscopic 3D gaming thrill.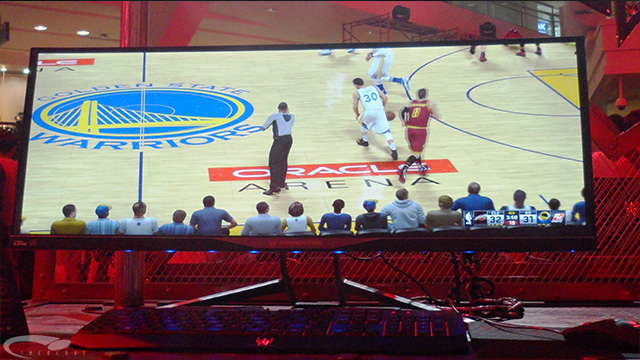 Predator X34
"Everyone knows the success of the Predator that made it the superior device for serious gamers and gaming enthusiasts, but as we promised, we're not done yet. We've upped the ante in gaming device standards, and this new Predator gaming system, with much, much more to offer, is the answer. No one else came close to what the Predator can do but there are still a lot of potentials for gamers to have that enlightened gaming experience and #ConquerNewWorlds, whether in games or in real life," declares Steven J. Funcke, Predator Marketing Manager.
==========
Photo Caption: (L-R) Mr. Wowie Wong – Market Development Manager at Intel Corporation, (middle) Mr. Calum Chisholm – Country Manager at Intel Corporation, (3rd from right) Mr. Cuki Pendor – Product Management Head at Acer Philippines and (right) Mr. Manuel Wong – President and General Manager at Acer Philippines
==========