AMD (NASDAQ: AMD) today released its completely reimagined graphics software suite, Radeon Software Crimson Edition, giving users an exceptional new user experience, 12 new or enhanced features, up to 20 percent more graphics performance, adjustability that can nearly double generational energy efficiency, and rock-solid stability across the full spectrum of AMD graphics products. The release is the first from the Radeon Technologies Group, which recently announced a renewed focus on software placing it on par with hardware initiatives.
"As the primary way that people interact with our products, our software deserves to be viewed as a top priority, and going forward that's exactly what we're doing, delivering easy-to-use software that is packed with real user benefits, starting with Radeon Software Crimson Edition," said Raja Koduri, senior vice president and chief architect, Radeon Technologies Group. "Radeon Technologies Group is laser-focused on the vertical integration of all things graphics, propelling the industry forward by driving performance per watt, creating innovative technologies and ensuring that the software supporting our GPUs is world class."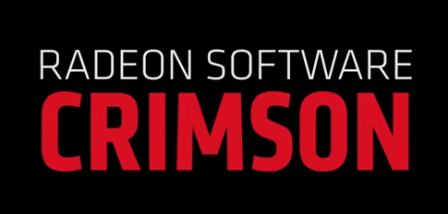 Radeon Software Crimson Edition includes:

Radeon Settings – A new, streamlined user interface: Engineered to get the best performance on AMD graphics hardware, the user-friendly and feature-rich Radeon Settings is lightning fast, starting up 10 times faster3 and initializing displays three times faster4 than the AMD Catalyst™ driver. It also offers more intuitive navigation, a new game manager, new overdrive, and new video, display and AMD Eyefinity technology sections letting users easily apply game settings, adjust performance settings, and apply various features and configurations to their computing experience.
12 new or enhanced features: A wide range of new and augmented capabilities help ensure that users enjoy the best experience possible across gaming, video and productivity applications.
Supercharged performance and energy efficiency: Radeon Software Crimson Edition enables up to 33 percent faster game load times5, up to 20 percent more game performance1, and up to 1.8 times more energy efficiency capability2 than its predecessor which can increase system performance-per-watt by as much as 23 percent.6
First public support of AMD LiquidVRTM technology: GCN's Asynchronous Compute Engine helps to dramatically improve frames per second (FPS), responsiveness and latency in Virtual Reality applications for an exceptionally smooth gaming experience on all GCN-based hardware.
Seamless stability: With twice the number of test cases across 15 percent more system configurations than AMD Catalyst™ Omega, and the implementation of a huge number of community-driven requests, Radeon Software Crimson Edition delivers exceptional stability across a range of experiences.​