ZenFone 4
ASUS recently announced ZenFone, a brand-new high-value smartphone series that offers a choice of screen sizes from 4 to 6 inches and is available in an array of striking colors — meaning there's a ZenFone for everyone.

ZenFone also introduces ZenUI, a sublime new user interface that's exclusive to ASUS smart devices. With simplified icons and menus, a selection of themes beautifully designed to match the device colors and a clever What's Next feature that helps users keep track of their lives, ZenUI is the irresistible front end of these irresistible new devices — and proof that fantastic functionality can have a friendly face.
ZenFone 4 — thin, light and powerful for energetic lifestyles
ZenFone 4 has a gorgeous 4-inch display and a powerful 1.2GHz Intel® Atom™ Z2520 processor with Quad-Thread Hyper-Threading Technology — making this a smartphone that never leaves the user waiting for a response.
With two built-in cameras — including a 5-megapixel main camera — for capturing great everyday photos and fun selfies, a slimline design with a low weight of just 115g and available in five vibrant colors — Charcoal Black, Pearl White, Cherry Red, Sky Blue, Solar Yellow — ZenFone 4 is the great-value handset for young people who demand the perfect companion for their mobile lifestyles.
ZenFone 5 — combines a spacious HD display with a highly portable design
ZenFone 5 has a spacious 5-inch IPS panel that delivers superb high-definition (HD) 1280 x 720-pixel resolution — and in a stunning design that tapers to just 5.5mm at its thinnest edge.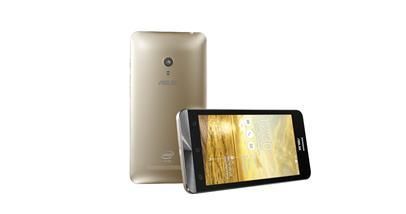 ZenFone 5
Exclusive ASUS PenTouch and GloveTouch technologies increase ZenFone 5's display sensitivity, making it possible to use the device with any stylus or even a gloved hand — so frustrations about how and when users can interact become a thing of the past.
ZenFone 5 has a fast, energy-efficient Intel Atom Z2580 processor running at 2GHz and also benefits from a brilliant 8-megapixel PixelMaster main camera with image stabilization. This couples a backside-illumination (BSI) sensor and wide-aperture f/2.0 lens with exclusive ASUS PixelMaster technology to capture digital photographs that more than match those snapped by many dedicated digital cameras. Its 2-megapixel front camera takes sharp selfies.
PixelMaster's Low-Light Mode measures the available light and intelligently adjusts the pixel size to increase light sensitivity by up to 400% — meaning ZenFone 5 snaps great low-lights shots and videos even without the built-in flash.
ZenFone 5 is available in four statement colors — Charcoal Black, Pearl White, Cherry Red, and Champagne Gold.
ZenFone 6 — perfectly blends productivity and entertainment on a beautiful 6-inch HD screen
ZenFone 6 also offers an HD display that measures a fantastic six inches across the diagonal — allowing users to see much more of what they want. Like ZenFone 5, the brilliant ZenFone 6 display features GloveTouch and PenTouch technologies — so users can operate the device with gloved hands or any stylus. It also has a powerful Intel Atom Z2580 processor running at 2GHz.
ZenFone 6's large screen is complemented by ASUS SonicMaster audio technology with virtual surround sound via headphones for a truly immersive entertainment experience when watching movies or playing games.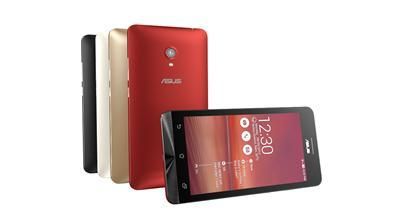 ZenFone 6
ZenFone 6 also includes a 13-megapixel main camera that similarly benefits from exclusive ASUS PixelMaster technology, and a 2-megapixel front camera for selfies and high-resolution video calls that look just great.
ZenFone 6 is available in the same four statement colors — Charcoal Black, Pearl White, Cherry Red, and Champagne Gold.
ZenUI, open messaging and enhanced ASUS apps for Android
ZenFone 4, 5 and 6 all feature the magnificent new user interface from ASUS — ZenUI. Exclusive to ASUS smart devices, ZenUI has been meticulously designed to help users make the most of the fantastic functionality that's packed in to every ZenFone. ZenUI delivers a holistic user experience with better functionality and great simplicity — meaning ZenFone knows what users need, helps to express their thoughts and feelings and keeps them connected wherever they go.
ZenUI even includes free open messaging, powered by Omlet Chat on the Omlet Open Messaging Platform. This brilliant messaging tool lets users share almost any kind of content easily with anyone, on any phone — and all without racking up charges associated with sending traditional text (SMS) and picture (MMS) messages.
ASUS has also added enhanced Android apps to every ZenFone devices, making life even simpler for users. The ASUS-enhanced email app, for example, allows messages to be read by thread — making it much easier to keep track of conversations. In the web browser, Smart Reader Mode automatically adjusts the background tone to reduce eye-strain, while the Gallery app has an enhanced online synchronization.
AVAILABILITY & PRICING
The availability of ASUS ZenFone varies by territory. Please contact your local ASUS representative for further information.