Watching: Users can also choose to catch their favorite movies once more without the crowd with TheaterMax's widescreen cinematics of vivid colors and immersive sound quality in the palm of the hand. Take time out from that hectic schedule and spend much needed quality time with the Lenovo VIBE X3 or VIBE K4 Note.
Interacting: Coupled with endless choices of games and applications, turn the Lenovo VIBE X3 or VIBE K4 Note into a gaming console with TheaterMax boasting smooth graphics, lifelike surround sound, and responsive 3D gameplay. Smartphones are already a hit with the young (and young at hearts) for their intuitiveness and user-friendliness, now users can look forward to even more exciting features.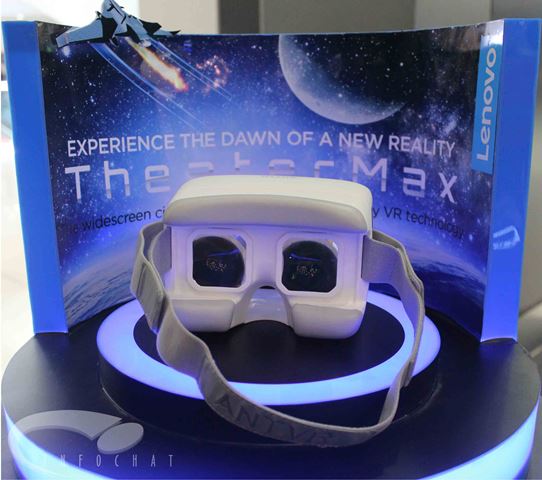 VIBE X3: Entertainment and Performance Built for a Lasting Experience
Incorporating the world's first large chambered front stereo speakers for a louder output and improved bass performance, the VIBE X3 boasts an all-new Dolby ATMOS® lifelike audio experience over speakers for the first time. Engineered with Lenovo Sound featuring the industry's highest performance 32-bit mobile audio DAC (Digital-to-Analog Converter) with unprecedented dynamic range to play any audio format, the VIBE X3 ensures ultralow distortion and supreme audio clarity, redefining personal entertainment experiences on smartphones.
The VIBE X3 also comes with an advanced sound input and recording capabilities, for those aspiring to produce their own digital content. Lenovo's configured 3-mic system and state-of-the-art Wolfson® audio codec effectively filters out ambient noise and greatly enhances sound quality, while its 21MP PDAF rear camera with 4K Ultra HD video recording capabilities and 8MP front camera ensures crisp quality videos and images.
The VIBE X3 also features a vibrant 5.5" Full HD display with a 178o wide viewing angle, a high contrast level of 1500:1 and 16M colors with Lenovo Screen color optimization to further enhance visual experience through a slew of dynamic colors and stunning details showcased on a high resolution screen.
To ensure an undisrupted entertainment experience, the VIBE X3's core structure is strengthened to last. With a combination of a 3600mAh battery that allows users to watch a movie or three in full HD, top of the line 64-bit Qualcomm® Snapdragon™ 808 hexa-core processor with 3GB of RAM, the VIBE X3 is built to deliver an exceptional performance making multi-tasking a breeze. Internal storage of 32GB, expandable up to 160GB is also available to ensure easy access to a huge archive of music, movies and games, while staying connected with super-fast LTE speeds.
CONTINUE READING…