Lenovo at the 2015 International Consumer Electronics Show its new lineup of YOGA convertibles and tablets with new technologies that take flexibility and interactivity to a new level. The family includes the thin and light YOGA 3 in 11-in and 14-in models (in a 13-in chassis) built especially for today's on-the-go and digitally-hungry consumers; the ThinkPad YOGA, optimized for businesses in a 12-in model, and a 14-in and 15-in model for pro-sumers with optional Intel® RealSense™ 3D camera; and the 8-in YOGA Tablet 2 with Windows, featuring Lenovo AnyPen Technology, that turns nearly any pen into a tablet writing tool.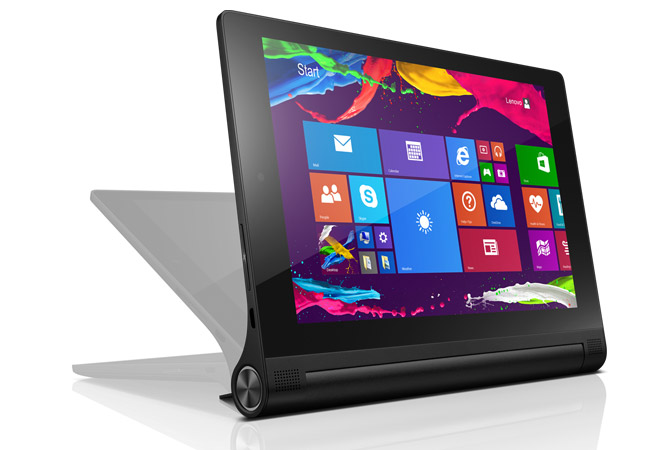 No More Fingers, Lenovo AnyPen Technology Turns Pens and Pencils into Tablet Writing Tools
The 8-in YOGA Tablet 2 with Windows featuring AnyPen Technology extends the YOGA family tradition: the hardware not only adapts to users with its four modes, but it also provides a new, innovative writing solution that gives users a better way to interact with their device and distinguishes it from other tablets today.
With Lenovo AnyPen Technology, any pen or pencil1 becomes a handwriting tool – no stylus needed. Consumers can pick their preferred tool and use it directly on the tablet's touch screen for easy navigation instead of relying on their finger. Lenovo AnyPen Technology makes handwriting on a tablet now as intuitive as writing on a piece of paper. Users will find this technology especially handy because smaller screen devices require more precise navigation than a finger. At the same time, Lenovo AnyPen Technology eliminates having to replace lost designated touch screen only styluses and the expense of purchasing one separately.
As part of the YOGA Tablet 2 family announced in Fall 2014, the YOGA Tablet 2 8-in with Windows drew acclaim for its enhancements over the original YOGA Tablet. Not only does it have four unique modes unlike any other tablet on the market – Hold, Tilt, Stand and Hang – giving users more ways to do more, but it also features an unparalleled entertainment experience. Equipped with two front facing speakers, Wolfson Master Hi-Fi noise reduction and Dolby audio, this compact tablet goes large on entertainment. With Windows 8.1, its 8-in FHD display and Intel® Atom™ processor, users can strike a great balance between work and play. And mobile consumers will appreciate its extremely long battery life of up to 15 hours.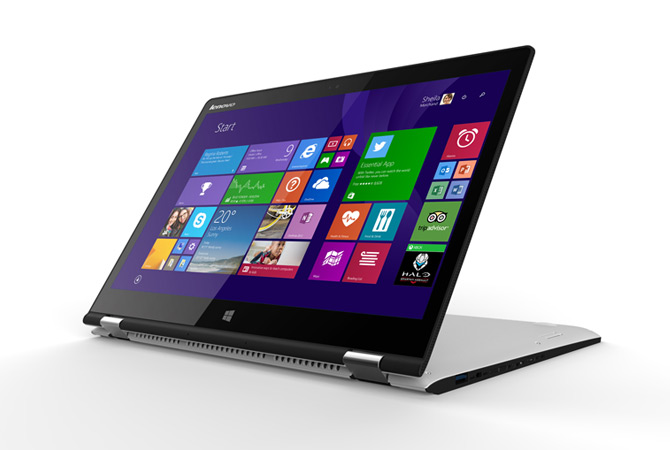 YOGA 3 – Flexible Fit for Today's Consumer
The new YOGA 3 gives consumers even more flexibility with choices of an 11-in model or a new 14-in model with a backlit screen. Both convertibles showcase an envelope-thin design, measuring 18.3mm thin or less. In fact, the larger 14-in model gives users even more screen real estate yet remains extremely thin and light built in a 13-in chassis. And at just 15.8mm thin and 1.1kg, the 11-in model remains the lightest convertible in the YOGA family. Both feature the classic YOGA two-hinge design allowing 360° flexibility to give consumers amazing function and value with four special modes – Laptop, Stand, Tent and Tablet. Lenovo refined the hinge to now open and close more smoothly and also allow the screen to lay flat at 180°.
More than just beautiful technology, the new YOGA convertibles are performers with powerful up to 5th Generation Intel® Core™ i7 processors on the 14-in model, Windows 8.1, FHD screens and fast 802.11 A/C WiFi. Strong performance deserves brilliantly loud and clear sound, so Lenovo equipped the YOGA 3 with stereo speakers and Waves audio. And for a more adaptive, intuitive experience, Lenovo includes Harmony intelligent software. Harmony helps users discover and customize applications and includes automatic brightness adjustment when reading a book, enables motion control or optimizes audio settings in specific modes and recommends new apps.
Users can pick from fun color choices including the head-turning Clementine Orange, Platinum Silver, new Chalk White or Ebony Black.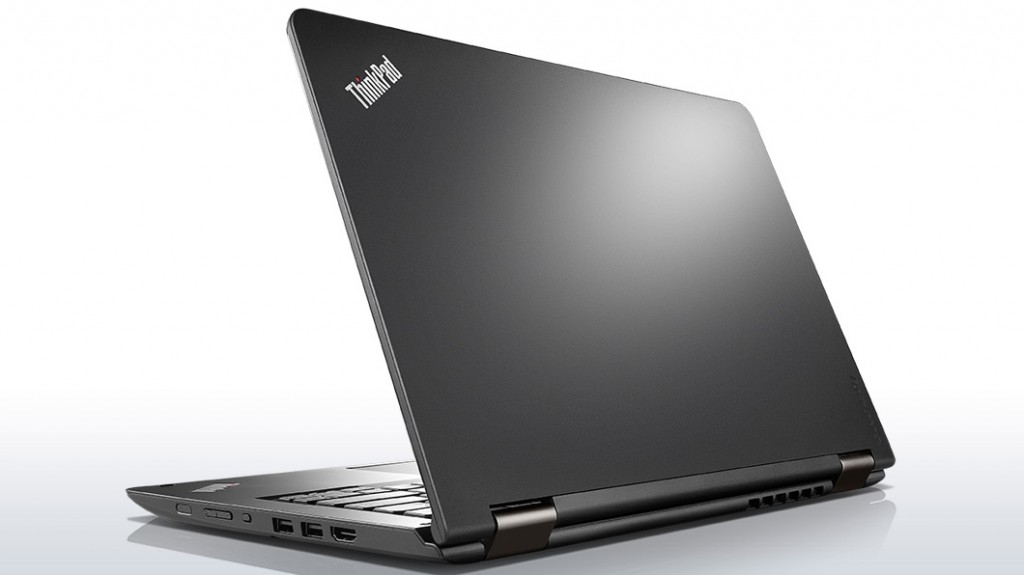 ThinkPad YOGA – Readying Professionals with Power of Two New Innovations
Lenovo created the new ThinkPad YOGA 12-in, 14-in and new 15-in convertibles to meet the needs of businesses and pro-sumers, striking the right balance between productivity and a great PC for personal use.  Built for small office, home office and students, the ThinkPad YOGA gives users mobile flexibility featuring the new ActivePen technology in select models along with elegant design and business-optimized features including an optional Intel RealSense 3D camera on the ThinkPad YOGA 15.
Select ThinkPad YOGA models feature an optional ActivePen for convenient, accurate and precise handwriting. Ideal for productivity tasks like taking notes, sending emails or creating presentations, ActivePen closely mimicks a user's actual handwriting on paper. The YOGA 12 continues to offer a digitizer/pen option that provides an internal garage for the pen. ThinkPad is creating an innovative hardware and software pen experience, regardless of pen technology.
With four modes and all day battery life, users can digitally write or enjoy any of the ThinkPad YOGA's modes: type or write in Laptop mode, take class notes in Tablet mode, present to colleagues in Stand mode or just relax by watching a movie in Tent mode. And the convertible's Lift n' Lock keyboard makes switching between Laptop and Tablet modes trouble-free without keys getting stuck.
Thin and light at just 19mm thin and less than 1.5kg on the 12-in model, these stylish convertibles come in black with an attractive backlit keyboard as well as FHD touch screen display.
The business-ready ThinkPad YOGA also features another new technology to help small businesses: a built-in Intel® RealSense™ 3D camera. Lenovo's first 3D camera in a laptop, it comes optional on the 15-in model. Today 3D cameras are being used by businesses for more personal video conferencing and scanning small objects for 3D printing applications.
The ThinkPad YOGA also comes ready for business with powerful up to 5th Generation Intel® Core™ i7 processors, Windows 8.1 with optional vPro for managed environments (12-in only), large storage up to 1 TB and Dolby Home Theatre v4.
The ThinkPad YOGA models expand the overall computing experience with Lenovo's SHAREit app to share files easily between devices. Small business users may opt to add support via Lenovo Services for their ThinkPad YOGA convertible, choosing among a variety of services: Accidental Damage Protection, Warranty Upgrade, Priority Technical Support and more.