Checking out their photos on their Lumia 535
In this new year of new beginnings, we are encouraged to love our enemies. Many will find this difficult to do but for Dusty and Donna, it means one of the most wonderful things that happened in their lives. These two childhood enemies had no idea that their stars were aligned to bring them back in each other's arms as a couple.
Capturing a tender moment with the Lumia 535
An Instagram contest for Valentine's Day by actor, Marlo Mortel with the help of Microsoft Devices was set to give out a romantic, all-expense paid date, plus a brand new Lumia 535 to one of his lucky followers. The couple, who only joined at the last minute, posted their photo when they were kids with the caption: "Childhood enemy man ang tingin natin sa isa't-isa, hindi maikakaila na bilang mga bata, paraan lang natin ito ng pagpapapansin sa isa't isa. Ganun pa man nandito na tayo ngayon.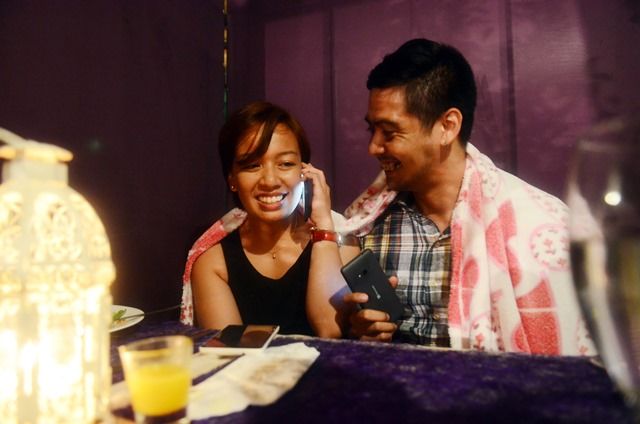 Couple gets a call from Marlo Martel
Pagkatapos ng madaming taon, hindi na magkaaway ngunit mga indibidwal na may pagtingin sa isa't isa. Lumalago ito bawat araw. Maligayang araw ng mga puso. Mahal kita."(Childhood enemies is how we saw ourselves but we cannot deny that as kids, we only did that to get each other's attention. After many years, here we are, no longer enemies but persons who have feelings for each other – feelings that grow deeper every single day. Happy Valentine. I love you).
A theater production manager, Dusty Suarez, posted three entries immediately after he heard about the contest to surprise his girlfriend Donna Arriola this love month. "Ever since, I really wanted a Lumia and also, of course to have bonding moments with my girlfriend". His childhood-enemy-post, bested other entries and won for themselves a #Marlomantic moment.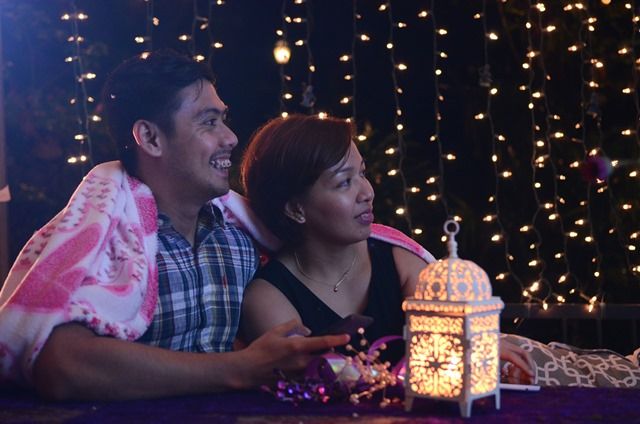 Dream Date with Lumia 535
On the day of the date, Microsoft Devices welcomed them with a dozen of roses and took them to Tagaytay City aboard The Black Fleet, a luxurious limousine bus complete with mood lighting, romantic music, chocolates, and rose martini. Aboard the limo, the couple kept themselves entertained with the new Microsoft Lumia 535 that was pre-loaded with games, romantic short films, and love songs. They also used its 5MP camera to take selfies and document the entire date.
Dinner got even more romantic as the couple was treated to Purple Owl's magical dinner under the stars, serenaded by singers in addition to the outdoor movies, and tarot card reading. Before dessert, Marlo Mortel also called them on their Lumia 535 to personally congratulate and thank them for their support.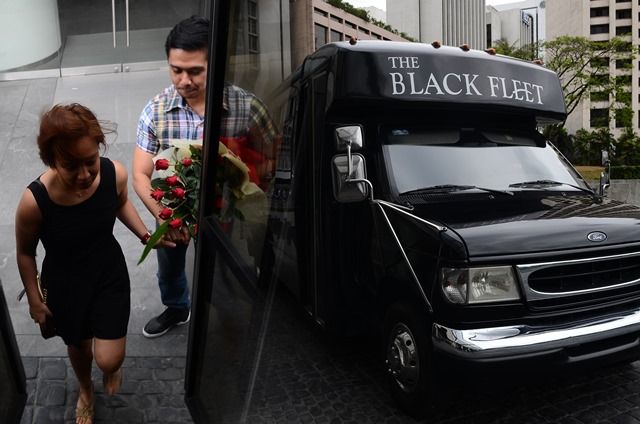 Lumia provides the black fleet ride to Tagaytay
"I really like how the camera adjusts to the lighting," Donna said while taking selfies at the foggy and dimly-lit venue. "It's very easy to use and also very friendly because of the customizable Live Tiles", she added. The couple captured their magical night and shared it with the people they love on social media.
On the road back to Manila, Dusty capped the date with a romantic karaoke love song for Donna, took one final selfie, and told her, "we are connected by an invisible thread, tangled but unbreakable". After almost 20 years of not seeing each other, truly, love is made sweeter by Lumia 535.