Photo Caption: (4th from right) PLDT and Smart Chairman and CEO Manuel V. Pangilinan
Leading Philippine telecom and digital services provider PLDT and its mobile subsidiary, Smart Communications, welcome a new day with a fresh brand identity that reflects their desire to empower their customers who are increasingly embracing digital services in their daily lives.
The new logo also comes with the recent change in name of the company from "Philippine Long Distance Telephone Company" into "PLDT Inc." to better represent the company's current thrust to decisively shift its business to data-driven services.
PLDT-Smart has embarked on a three-year digital pivot that aims to transform its networks into the country's most data capable infrastructure delivering a growing array of compelling digital services.
This year alone, the Group has allocated P43 billion for capital expenditures. Around $100 million more in capex will likely be earmarked, following the acquisition of the telecoms business of San Miguel Corp. which included the utilization of the so-called digital dividend, the 700 MHz frequency band.
PLDT and its various subsidiaries such as Voyager Innovation and Talas Data Intelligence are also developing and offering digital and financial technology services that offer the Group's customers higher levels of efficiencies and convenience.
"Rather than allow ourselves to be disrupted by new technologies, we are disrupting ourselves. We have embarked on a digital pivot to enable us to serve the increasing needs of our people's digital lifestyle and the country's growing digital economy," said PLDT and Smart Chairman and CEO Manuel V. Pangilinan.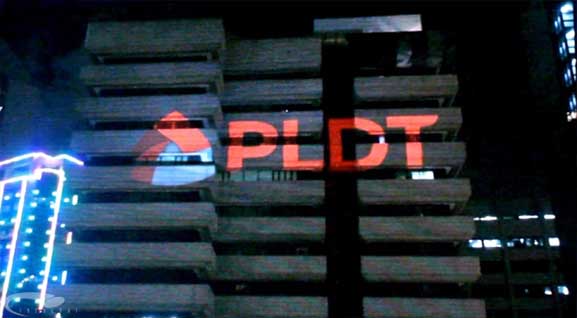 new PLDT logo
"We shall lead the digital revolution by embracing the smart life within the organization, pursuing digital innovations and enabling our customers to go digital in their own ways. The biggest winners will be our customers who will have a growing range of choices at their fingertips," Pangilinan stressed.
New identity
The new logo symbolizes the powerful convergence of PLDT and Smart, combining fixed and wireless technologies to serve individual and enterprise customers.
The new PLDT and Smart logo is shaped like a triangle with the three sides representing the Company's business pillars – exceptional people, meaningful innovations, and our valuable customers.
The triangle is also the symbol for Delta, the fourth letter in the Greek alphabet, which stands for "Change".
"Taken together, these three pillars create tremendous energy that will enable our customers to achieve their limitless potential. The triangle's three sides support each other. Thus, an inherent strength flows harmoniously among the sides to sustain the structure," Pangilinan said.
The new logo replaces the iconic 33-year old PLDT logo which was formed through a repetition of the abstract figure of the telephone receiver to complete four sides. Smart has also changed its logo.
Still changing lives
Now going on its 88th year, PLDT has been leading innovations to empower both consumers and enterprises in navigating the digital age. Here are some recent examples: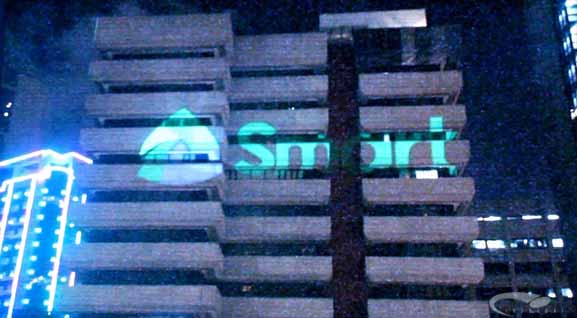 new Smart logo
• PLDT pioneered data sharing in the country that allows a PLDT HOME DSL customer to share 50GB of data to a Smart mobile subscription.
• PLDT has also deployed a growing array of web-connected devices for the home such as the online tablet Telpad that serves as the hub of digital services for the home, TVolution Stick which is a dongle that turns TV sets into personal computers, and FamCam which is a CCTV that streams video to mobile devices for added security in the home.
• PLDT's mobile unit Smart was also the first to deploy LTE-Advanced (LTE-A), also known as 4.5G in the country. Last April, Smart fired up the country's first 4.5G service in the resort island of Boracay, using a feature of LTE-A called carrier aggregation that delivered data speeds of up to 250 Mbps.
• For enterprises, new innovations are introduced by leveraging on the digital platforms of Social, Mobility, Analytics, Cloud, and Security or SMACS. These are a portfolio of digital services that boost enterprise efficiency, business agility, and customer engagement.
• An example of these enterprise digital solutions is MarketBuilder which is the country's first mobile application that enables SMEs to reach out to their customers by dynamic profiling through geo-fencing or location-based marketing.
• PLDT's digital innovations unit, Voyager, and its recent spin-offs PayMaya and FINTQ have also created some breakthrough digital services and platforms. FINTQ, for example, through its Loans Marketplace is now the country's biggest loans and remittance provider through its partnerships with banks and other financial institutions where transactions are all done via the convenience of mobile phones.