Lenovo sets a new benchmark for value-for-money smartphones with the latest introduction to its A Series line, the Lenovo A6010. Tailored specifically for smartphone buyers looking for a unique blend of design, quality, performance, and user experience without the associated price premium, the A6010 is the perfect on-the-go music and multimedia companion.
Designed to deliver best-in-class functionality and unparalleled value, this smartphone boasts a powerful quad-core processor for enhanced multi-tasking performance. Even better, this smartphone model also supports ultra-fast connectivity, making Web surfing and sharing content smoother than ever. And with up to 32GB of expandable storage via a microSD card slot, consumers can do more effortlessly.
"As Lenovo commits to continuously providing consumers with cutting-edge technology at an affordable price, we are proud to announce the latest addition to the growing A Series. The Lenovo A6010 offers uncompromising entertainment and smooth performance especially for those who rely heavily on their smartphone when it comes to music, gaming, and social media," said Dino Romano, Country Manager, Lenovo Smartphones Philippines.
An Uncompromising Entertainment Experience
Featuring a 5.0" wide-view display with 720p clarity and IPS technology, the Lenovo A6010 creates stunning visuals to deliver a true HD entertainment experience. With twin speakers powered by Dolby Atmos®, it provides immersive virtual surround sound also optimized for headphones. Be at the center of action and experience the power, clarity and depth of what the phone has to offer. With top-notch picture and sound quality, the Lenovo A6010 is the perfect entertainment companion for long commutes, endless queues, or even to just wind down after a long day.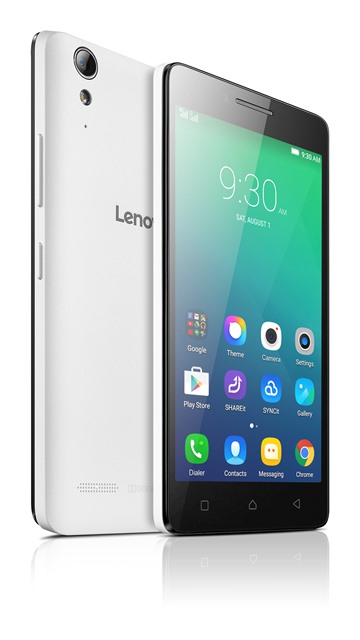 Designed to Excel
Powered by a high-performance Qualcomm Snapdragon quad-core processor, the Lenovo A6010 is capable of not only effortlessly running most apps and games, but also providing blazing-fast connectivity and access to online content with 4G LTE support. Its long-lasting 2,300mAh battery keeps the phone going all day, enabling consumers to do more on the go.
The Lenovo A6010 comes with all the flexibility of a replaceable battery with power to spare. With a replaceable battery, users can conveniently swap a fresh battery pack on the move, eliminating the need for a dangling USB cord and power bank. A built-in OTG charging function also allows users to charge their USB accessories, such as portable speakers and Bluetooth headsets
Pricing and Availability
The Lenovo A6010 comes in three colors – Onyx Black, Pearl White, and Carmine Red; and is available with 1GB memory with 8GB internal storage.
The Lenovo A6010 is available at all authorized Lenovo dealers nationwide for Php7,999.