First ­ever Twitter TV integrations and Periscopes give exclusive access to fans
Filipinos and people worldwide continue to flock to Twitter every day to get the latest news, connect with other fans and share their passion for the phenomenal ALDub love story. Their latest achievement was one for the Twitter record books last weekend's sold out "Tamang Panahon" charity concert had over 41 million Tweets for the #ALDubEBTamangPanahon hashtag on October 24.
The Tweet volume for this #ALDub hashtag surpassed the previous Aldub Twitter record of 26 million Tweets when Alden Richards visited Maine Mendoza at the mansion on September 25 as well as the 35.6 million Tweets sent during the Brazil vs Germany World Cup semi-­final on July 8, 2014.
There were three peaks in the #ALDubEBTamangPanahon conversation with the highest at more than 48,000 Tweets per minute at 2:29pm on 24 October when Alden Richards sang "God Gave Me You" to Maine Mendoza aka Yaya Dub and the couple hugged on stage in front of 55,000 fans at the charity concert.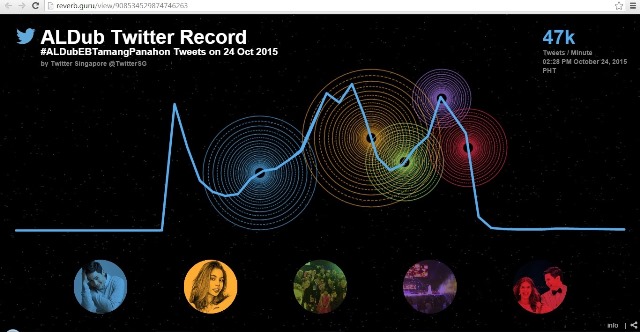 The most shared Tweet for #ALDubEBTamangPanahon came from Yaya Dub which had over 74,000 Retweets and was viewed nearly 2.4 million times on Twitter.
This was also the first time the Eat Bulaga producers used Periscope to give fans exclusive behind-the-scenes access with live video and also shared footage from the stadium using Twitter's video capabilities.
The producers did a live broadcast from the Philippine Arena before the show giving fans an exclusive view of the venue before the show started. The producers and stars talked to their fans from the green room backstage exclusively on Periscope.
The producers also showcased some of the most popular ALDub hashtags on-air and on-stage when Alden and Yaya Dub met on-stage. Fans were seen cheering the ALDub stars with Twitter flags at the charity concert.