GFS schools in action
All 221 school divisions of the Department of Education (DepEd) nationwide are expected to benefit from the five-year expanded Global Filipino School (GFS) program of Globe Telecom which intends to transform select public schools into centers of excellence in information and communications technology and innovative teaching methods.
"Globe has been a longtime advocate of education.  We want to give Filipinos, especially those who are underprivileged yet deserving, more access to education opportunities through ICT.  Thus, we decided to make GFS available to all DepEd divisions to help increase understanding and effective usage of ICT in the classroom and eventually, provide the students the skills and knowledge they need to succeed not only in the classroom but also outside of school," said Fernando Esguerra, Globe Director for Citizenship.
GFS was initially piloted by Globe and DepEd in Bilar National High School four years ago and is now present in 20 public schools nationwide.  With the positive feedback received from the initial GFS implementation, Globe decided to roll it out in all DepEd divisions within a five-year period beginning 2016.
"Our gratitude to the GFS program of Globe Telecom for enhancing the ICT skills of the Boholano teachers and students and for providing Bilar NHS wth multimedia facilities, thus, developing our 21st century learners. It's good to hear that more schools will benefit from it," said Dr. Wilfreda D. Bongalos, Schools Division Superintendent DepEd Division of Bohol.
Under GFS, schools are provided with unparalleled online connectivity to give homeroom teachers access to limitless teaching and learning engagements available on the internet that will help further improve their craft and make learning fun and interesting for the students.  The schools are also given a Globe Digital Laboratory package containing netbooks/tablets, mobile projectors, printers, and sound systems while teachers are trained on 21st Century Teaching Methods that use ICT in the classroom.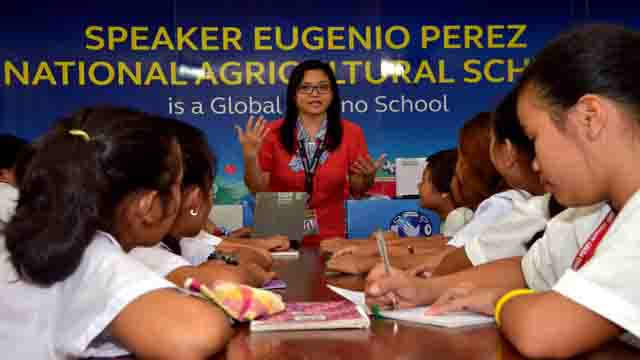 For the students, they are taught "Learning and Innovation Skills" as well as "Information, Media, and Technology Skills".  With Learning and Innovation, students are trained to be creative, to think critically, communicate, and collaborate in preparation for a more complex work and life environments ahead of them.   On the other hand,  Information, Media and Technology helps students use the wealth of information available to them more effectively.
Teachers, on the other hand, are trained on ICT education and project-based learning through the Globe Global Filipino Teachers (GFT) program so they can maximize the resources provide to their school.  All schools under GFS are intended to become teacher training hubs and training partners of the DepEd Division Offices in conducting teaching workshops for neighboring schools of each division
While developments in technology have made it easier for both students and teachers to access a vast library of information previously out of their reach, a significant number of public elementary and high schools nationwide still do not have internet access due to lack of adequate infrastructure.  Thus, with the program's nationwide implementation, Globe expects to address the concern and at the same time, improve the Philippines' global ranking in education.