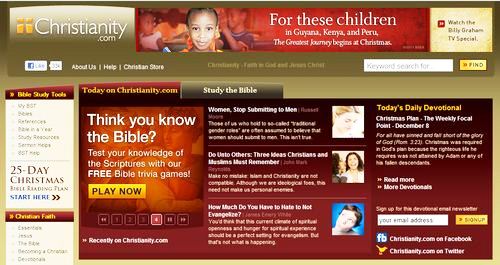 As Christians, we face a battle in our everyday lives. But God is not limited and works even in technology. That is why Christianity.com is a great way to get the spiritual food we need everyday. It's put together by a group of writers and editors with a passion for giving people access to what is enduringly Christian.

Their resources include text, audio, and video highlights of Christianity's rich history and also provides fresh, biblically sound content—all with the view to inform and encourage those who want a closer relationship with Jesus Christ and His truths taught in the Bible.
Christianity.com is ordered by classic categories of Christian thought: God, the Bible, Church, Christian Theology, and Christian Life. Each category is further subdivided into areas of significance to many Christians, including Apologetics, Art & Culture, Church History, Devotionals, Family, Jesus, Salvation, Politics, Prayer, Worship, etc.