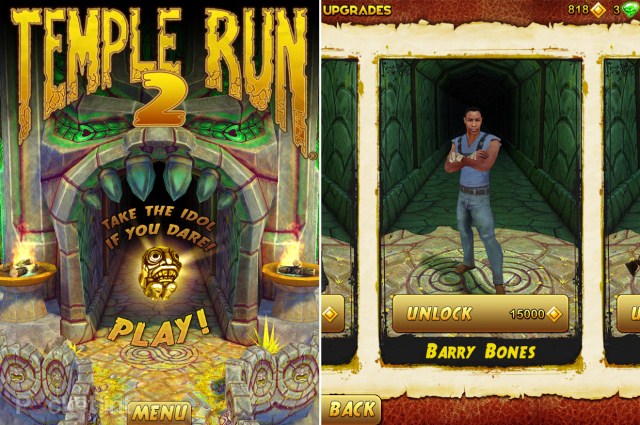 If you have mastered Temple Run, scored millions, unlocked everything that needed to be unlocked, upgraded all the power ups, and finished all the objectives, there is good news for you. Temple Run 2 is now available for download from the App Store for free! No news yet about its release on the Google Play Store.

Expect to feel like a novice again when you play this latest edition of Temple Run because there are a lot of new things to deal with. The setting is new and full of exciting locations. There are waterfalls that you have to jump over. There is a railway that is an entirely new feature. And there is a road where you can look over and see that you are way up high. While negotiating the unfamiliar setting, you have to be on the lookout not only for coins but also for gems which you can use to save your character from dying. And there is even a new way to power up–just double tap the screen.
Many familiar things remain. You still have to jump and slide to avoid obstacles and tilt your device to get coins and avoid traps. The straight paths have been replaced by curved ones, but your character adjusts automatically, so you don't have to tilt the screen to follow the curved trail. The graphics are still the same. And all your favorite characters are back: Guy Dangerous, Scarlett Fox, Barry Bones, and Karma Lee.