Microsoft has unveiled an Asia Pacific wide study that shows enterprises are lagging behind their employees' expectations to be more productive, collaborative and innovative in a mobile-first, cloud-first world. The Study, conducted together with a global consultancy firm Organisation Solutions, also unveils the New World of Work Index comparing how workers perceive their ability to succeed in today's digital, fast-paced and modern work place.
Microsoft's New World of Work Study for Enterprises involved 400 respondents in the Philippines and generated insights on their current work and life needs and the gaps that exist in enabling them to thrive. It provides valuable insights into the practices that enable businesses to succeed and attract and retain talent.
The New World of Work Index is derived from respondents who rated themselves highly in the three key pillars:
People: Employees have the capability to work flexibly and productively in the digital modern work place. They are supported by leaders and cultures that help them succeed in this dynamic environment.
Place: Employees can work flexibly, anywhere at any time. Their offices support a collaborative, dynamic design and their policies support flexible work at work, home or with customers.
Technology: Employees are empowered with technology to enable them to succeed in this environment, allowing collaborative work wherever they may go.
The Asia Pacific mean score was 44 out of 100, while scores ranged from as low as 23 in Korea, to as high as 65 in India.  The Philippines scored a 59 and was ranked third among the 12 markets scored.
"Globalization and technology innovations have brought the world closer, fundamentally changing the way people live and work. We commissioned the Study to understand how work and life have changed for employees in Asia Pacific and determine how much they are supported by their employers to succeed," said Cian O'Neill, Chief Operating Office, Microsoft Philippines.
O'Neill added: "While technology plays a key role to enable 'work from anywhere' scenarios and higher productivity, other aspects such as organizational culture, policies, infrastructure, enabling collaboration or the ability to break down barriers to innovation are becoming increasingly important for an organization undergoing digital transformation to be competitive."
The findings clearly show that the traditional notion of work is changing, even within enterprises in the Philippines:
The responsive organization: 69.5% of Filipino respondents said that they are required to respond to internal stakeholders within four hours; and 72.5% said that they are required to respond to external customers within four hours.
Work doesn't end at 5.00pm: A majority (85%) said that they are still required to be contactable outside of work today in order to complete their work effectively.
Limited mobile productivity in a highly mobile workforce: Three quarters of the respondents said they needed to be in the office to access special equipment or tools that are only available in the office.
Bring-your-own-device and Bring-your-own-service culture is increasingly pervasive: Employees om the Philippines are using more personal devices (51%) to get work done today. 75% are also using online tools that go beyond just email – document & file sharing, storage, virtual meetings and social.
Achieving work life balance is challenging: 91% of respondents said that work life balance is a very important aspect of their job, with 71% felt that they had adequate balance today.
Organizations in the Philippines are also making decent progress on adopting sustainable practices, with 82% of respondents saying their organizations are increasingly moving towards becoming paperless, above the regional average of 78%.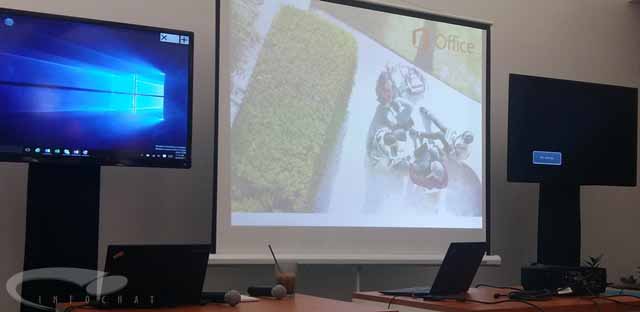 Employees in Emerging Markets to Leapfrog Mature Markets in the modern workplace
The New World of Work (NWoW) Index is derived from respondents who rated themselves highly in the three key pillars of people, place and technology. The score shows the number of employees over 100 who feel their employers are enabling them to be productive, collaborative and innovative while ensuring personal well-being.
| | | | |
| --- | --- | --- | --- |
| Market | Rank | The New World of Work (NWoW) Index | Percentage using 4 or 5 productivity tools such as emails, file sharing, etc. |
| Asia Pacific wide |   | 44.00 | 71% |
| India | 1 | 64.67 | 93% |
| Indonesia | 2 | 59.00 | 72.5% |
| Philippines | 3 | 58.67 | 75% |
| China | 4 | 56.50 | 66.5% |
| Thailand | 5 | 47.33 | 62.5% |
| Vietnam | 6 | 45.50 | 81% |
| Malaysia | 7 | 41.33 | 57% |
| Australia | 8 | 39.33 | 50% |
| Singapore | 9 | 39.17 | 54% |
| Hong Kong | 10 | 37.17 | 53.5% |
| Taiwan | 11 | 26.67 | 53.5% |
| Korea | 12 | 23.33 | 49% |
 The study presented these key observations:
Employees in emerging markets feel they are better supported for a new world of work and are open to harness productivity tools to work better and smarter. They also bring their own devices and services to the workplace to help them become more connected and productive. This was further reinforced by the insight that majority of respondents in these markets use 4 or 5 productivity services today.
Employees in mature markets live in a world where advanced productivity tools are more readily available, but they do not harness online productivity tools as much as their counterparts in emerging markets. They may also be impeded by stricter policies or legacy processes & systems at the workplace.
75% of respondents in the Philippines use at least 4 to 5 online services to enable their work needs (email, social, collaboration, virtual meetings, and cloud-based file sharing services). The level of usage was higher than the APAC level of 71%. Of note, the difference between emerging (72.5% average) and mature (52% average) markets was stark. In the new digital world, employees in emerging markets will leapfrog those in mature markets in becoming workers of the future.
When ranked, the top 5 online services used by Filipino employees for work are: email (89%), social tools (79%), document collaboration tools (74%), virtual meeting tools (70%), and file sharing services (70%)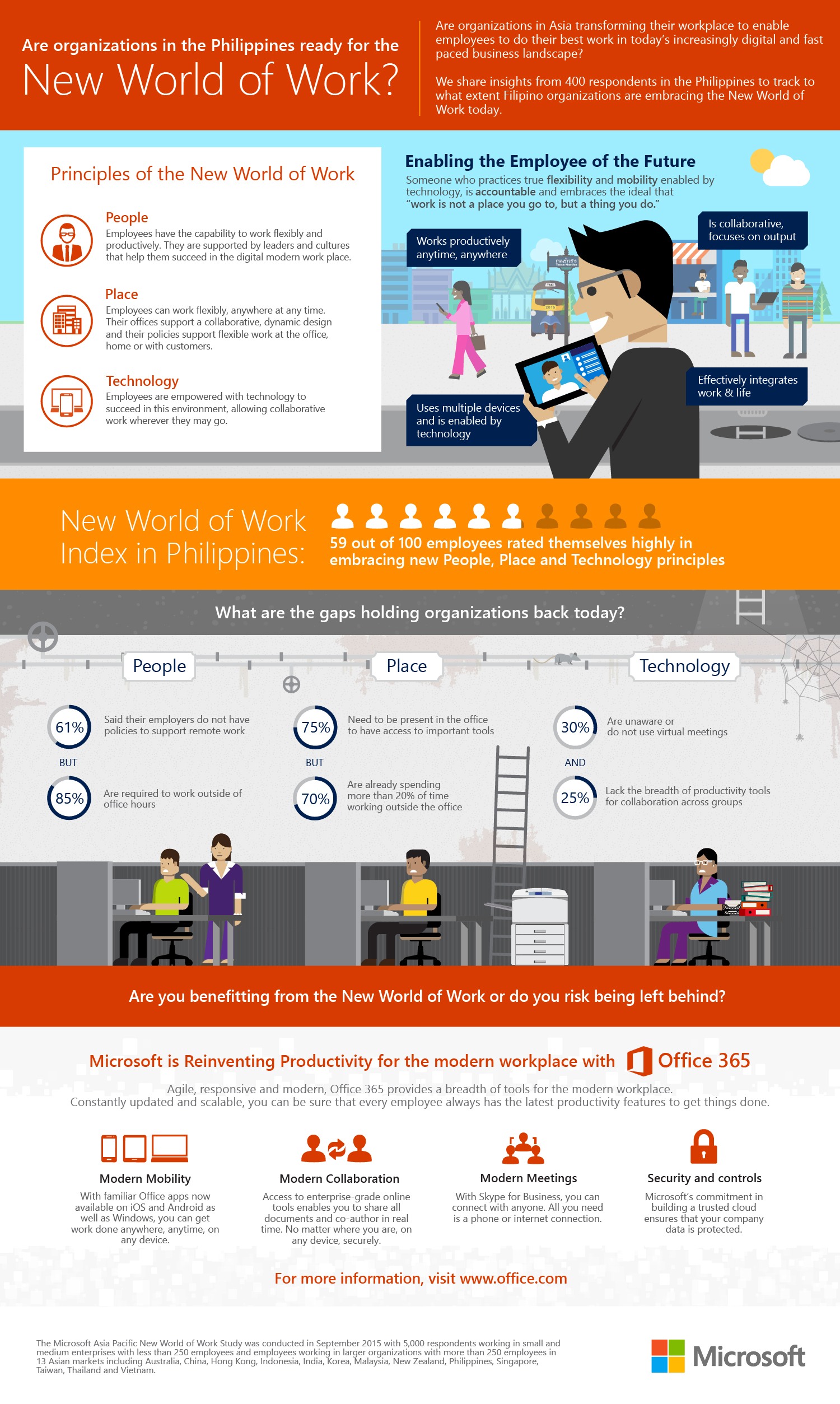 Unlocking the New World of Work in Asia Pacific
When companies adopt the New World of Work principles, they are able to gain new business insights, realize greater operational efficiency, communicate and collaborate real time –all while reducing the impact on the environment. In fact, the New World of Work presents four clear benefits today: a more productive workforce, a more collaborative workforce, a more innovative workforce and a happier workplace.
With productivity and talent retention being a key concern, companies can no longer afford to ignore the needs of their employees to provide enhanced productivity as well as better work life integration in the New World of Work. Here are four key steps for organizations to take:
Communicate, collaborate, have meetings, share ideas real time from anywhere – with enterprise grade cloud solutions which enable email, social, document sharing, virtual meetings, file sharing.
Work from any device – with 51% of total devices used– personal smartphones, tablets, laptops – are for work, why not harness their potential to share ideas, provide real time insight on how the business is going – something which millennials do naturally anywhere.
Enable secure remote working – Peace of mind with security for remote access & online solutions – enterprise grade solutions with easy device management on Windows Intune, data privacy and security policies which protect companies and their employees on Office 365.
Democratize access to technology: Productivity tools need to be pervasively available across the workforce. In the study, respondents who hold managerial positions feel they are more responsive to stakeholders (66%) versus non-managerial positions (63%).
Productivity reinvented through Office
Microsoft solutions for business enable organizations to be able to work collaboratively anywhere, with the same familiar experience across PCs, tablets, and mobile devices. With Office 365, organizations can benefit from a breadth of tools for the modern workplace which are constantly updated and scalable with latest productivity features for employees to get things done:
Modern mobility: With familiar Office apps now available on iOS and Android as well as Windows, users can get work done anywhere and anytime.
Modern collaboration: Enterprises can get access to enterprise-grade online tools that enable you to share all documents and co-author in real-time. Office Delve, now available to all Office 365 for business users, proactively highlights key information that is relevant to users based on tasks and colleagues you work with closely. Office 2016 now also features Co-authoring which enables users to collaborate through real-time typing that lets you see others' edits as they make them.
Modern meetings: Skype for Business, a communications and collaboration platform brings together an experience inspired by Skype with enterprise-grade security, compliance and control. It offers features including presence, IM, voice and video calls, and online meetings. In addition, the new Office features Skype in-app integration across the rich client apps allowing you to IM, screen share, talk or video chat right in your docs.
Security and controls: Microsoft's commitment in building a trusted cloud ensures that your company data is protected. In addition, Office 2016 users will receive new features for better enterprise security and protection, including Built-in Data Loss Protection, Multifactor authentication and Enterprise Data Protection.
"Microsoft is reinventing productivity to empower every person and every organisation to do more and achieve more. Millions of organizations across Asia Pacific are already reaping the benefits of a more productive and collaborative work place with cloud and mobile optimized solutions such as Office 365 which includes Yammer for social and Skype for Business for virtual meetings, with all the security built in to allay concerns of moving to the cloud.  We are clear that our goal is not to make more technology, but rather to make technology that does more for you and your business," added O'Neill.