Huawei VP for Sales Bruce Liu and Globe SVP for Corporate Communications Yoly Crisanto seal the partnership agreement with a handshake. Huawei Corporate Communications Head Wellington Liutao (left) and Globe VP for Enterprise Sales Dion Asencio (right) act as witnesses.
Leading global ICT solutions provider Huawei Technologies Philippines, Inc. has signed a Memorandum of Agreement (MoA) with Globe Telecom on the adoption of Project 1 Phone e-waste recycling program even as it turned over one van full of various electronic waste as initial donation.
The contract signing and e-waste turnover was led by Huawei Vice President for Sales Bruce Liu and Corporate Communications Head Wellington Liutao. It was in response to the P1P campaign initiated by Globe Business among its corporate clients to encourage donations of individual and company e-waste such as non-working or damaged phones and tablets; mobile phone batteries, chargers, and accessories; printers, cartridges, and personal computers, among other electronic items.
"Our vision for sustainability is to Connect the Future so we are happy to be Globe Telecom's partner in this endeavor. We have a responsibility to contribute to the markets in which we operate internationally. Huawei is prepared to leverage its ICT expertise to increase efficiency, reduce resource consumption, and build a green, low-carbon society. We will continue to invest 10% of our annual revenue to Research and Development to ensure that we continue to innovate technologies and develop green products and solutions, " Liu said.
Dion Asencio, Globe Vice President for Enterprise Sales said: "Apart from adopting environmental sustainability efforts in our own organization, Globe Business is taking it a step further by making it possible for our enterprise customers to be involved in saving the environment integral to their corporate sustainability thrusts. That is why we are very thankful to Huawei for the partnership opportunity through P1P. We hope that this will serve as an inspiration to other companies to help us achieve our 150,000 kilogram e-waste target this year."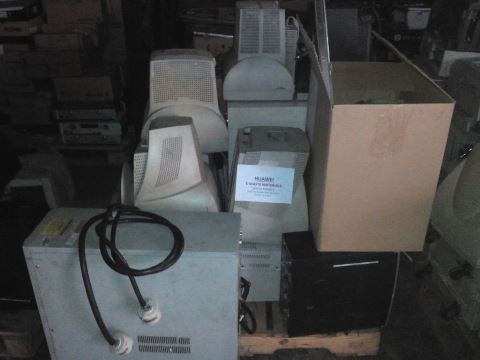 A portion of the numerous e-waste donated by Huawei
The two-year agreement involves a commitment from Huawei to gather all e-waste from its offices and employees to be collected by Globe and sent to its accredited partner Total Environment Solutions Asset Material Management (TES-AMM) Philippines for proper recycling, proceeds of which will go to Habitat for Humanity for classroom construction.
Globe Business is leading the way in encouraging businesses to do their share in minimizing environmental impact of e-waste and countering its harmful effects on health through close collaboration with private corporations on the adoption of P1P.
P1P, the flagship conservation initiative of Globe, focuses on responsible e-waste recycling and recovery to ensure that harmful materials do not end up in landfills. It also aims to promote sustainability by engaging various stakeholders, customers, partner corporations and the public to donate their e-waste for the conservation and protection of the environment. So far, from the 79,968.2 Kg of e-waste gathered when it was first launched in 2014, the amount increased to 124,572.19 Kg the following year.