HP's new printers and remote management system aim to simplify your workspace, but do they deliver?
According to HP's Jesus Varela, Vice President and General Manager for Managed Services Printing and Personal Systems in the Asia Pacific, a typical company spends loads more money than it realizes on printer maintenance, supplies, and troubleshooting. HP comes to the rescue by assessing your printer situation, suggesting a program for streamlining printer and document workflow, and setting up the new printers and taking care of maintenance.
The strategy is quite innovative. Traditionally, printer manufacturers just try to sell more and more printers. But HP's new strategy is about doing more with less–less printers, less paper, less maintenance people, and ultimately, less cost.
HP is offering a centralized printer system–all printers are connected and have the ability to relay information to one another. So let's say you need to give a document to a department five floors up. You just save it on a printer on your floor, and the recipient can print it on the nearest printer. Or you can have the document scanned on one printer and saved on a computer folder or e-mail to be accessed by the recipient.
Under HP's new system, company owners can also set access parameters for individual printers. So if you want print-happy employees banned from printing in color, you can do so.
And for the cool part: you can print using your mobile phone. You send your document wirelessly from a mobile phone to an HP printer that's connected to its ePrint system, and, voila, you've got your report.
HP's system isn't limited to document management as it is also used in printer maintenance. HP claims its printers can send a warning to the system even before a problem arises, so HP can send personnel immediately. Imagine never having to think about changing the ink on your printer and never calling HP because, well, HP knows it before you do.
New system, new printers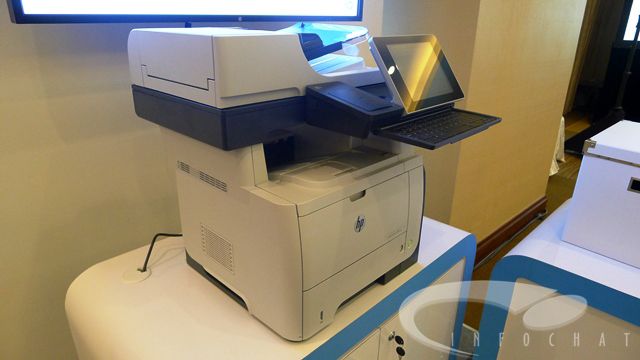 But of course, it wouldn't be a printer launch without printers, right? Well, the management system will only work if you use one of their new, multi-function printers (nice segue, by the way). On display during the event were the Officejet Pro X Series and the LaserJet Enterprise Flow MFPs.
The LaserJet demo was focused on connectivity functions like sending documents to multiple destinations, officially called the Capture and Route. The demo wasn't seamless, however. The printer, at first, had trouble connecting to HP's servers where all documents must past through before being sent. Once it was able to secure a connection, though, the document was sent to as many as six destinations. It featured all the bells and whistles of an MFP: duplex printing, two-sided scanning, HP's access control (for access parameters), and many others. And for an extra reminder that we are in a hi-tech world, these can be manipulated using an 8-inch color touchscreen with keyboard.
The OfficeJet Pro X demo, on the other hand, focused on proving it can replace your trusty laser printer. The Pro X didn't disappoint, and it churned out documents (albeit in normal mode) like it's having a panic attack. Official HP figures put it at up to 70 pages per minute, and it sure was fast. Quality wasn't sacrificed, though–HP personnel even dared a journalist to dunk the newly printed page into water to prove that their new pigment-based ink won't smudge. And it didn't. Cost? HP didn't reveal pricing as the new printers were then just about to be released in the market. But they were confident that, the Pro X being an inkjet, price wouldn't be a negative factor.
Keeping up with the times
Overall, the event wasn't just about printers. According to Armando Pascual, HP's Enterprise Director for Southeast Asia, it's no longer just about their products. He says, "We develop the infrastructure to serve our customers, because we believe it (the trend) is towards the services we provide… Before, you buy the hardware per piece but you still manage it yourself. This time, instead of buying just the hardware itself, you buy the service."
This approach is similar to how other tech companies try to capture whole entities, not just individuals. They're now selling services along with their products which are exclusive to them. An iPad is almost worthless without apps just as HP's new remote management system is useless without its printers.
One major caveat in HP's rather enticing system is that it relies on a fully connected environment. While it's a non-issue in developed countries, there are still big companies here in the Philippines that don't yet have mature and reliable intranet and Internet connections. As mentioned earlier, you'll be dependent on HP as the sole provider of everything printer-related. While this might be heaven-sent for those who handle logistics, this could be a matter of concern if you were an owner who intensely values privacy and is a little doubtful about the brand's reputation.
HP is trying to take over and do all the heavy lifting when it comes to printer management, so you won't have to. Only question now is, are you willing to let them?