The movie "Back to the Future" showed some of the most amazing gadgets that seems to be far fetched. Some of which are technologies like virtual reality, video call, hoverboards and even self-lacing shoes which Marty Mcfly used in the movie.
Nike is making the self-lacing shoes a reality by introducing the Nike HyperAdapt 1.0, the first performance vehicle for Nike's latest platform breakthrough, the adaptive lacing.
Nike's Tinker Hatfield said "Innovation at Nike is not about dreaming of tomorrow. It's about accelerating toward it."

The self-lacing shoes went under a deep digital research with the help of and advance electrical and mechanical engineering to design this movement. Tiffany Beers, Senior Innovator of Nike, Inc., explains "When you step in, your heel will hit a sensor and the system will automatically tighten," making its function simple that reduces typical athlete concern and distraction.
This shoes features two buttons on the side to tighten and loosen and adjust it until it becomes a perfect fit. After a few wears, this shoes will be able to tell a person's preferred settings, and automatically choose that level when the sneakers are worn.
Nike aims to make future versions that automatically adjust on the fly, based on biometric data. The sports brand unveiled that this shoes' 'anti-clog traction' technology is made to prevent mud from sticking to soccer cleats.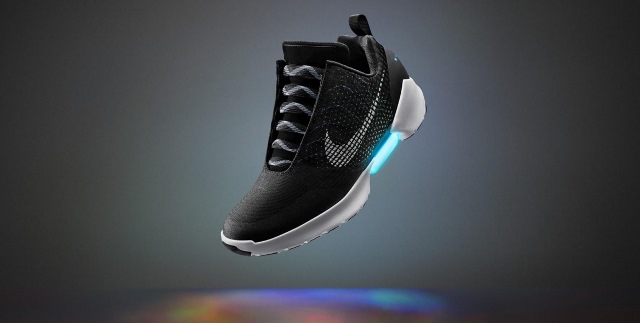 In April 2015, Beers was tasked with making a self-lacing Nike Mag to celebrate the icon's true fictional release date of October 21 and announced plans to sell them in limited quantities and even gave a pair to Michael J. Fox. The final product quietly debuted Nike's new adaptive technology. Shortly after, the completion of the more technical, sport version they'd originally conceived, the Nike HyperAdapt 1.0.
The Nike HyperAdapt 1.0 will be available ONLY to members of Nike+ beginning Holiday 2016 in three colors.
(Photo Source: news.nike.com)