RICOH Philippines, Inc., one of the leading global manufacturers of multifunction printers, recently launched two new digital production presses that are eyed to set the new standards of production print system: a monochrome multifunction printer and a digital full color printer that has a 5thstation for clear gloss and white toner, during the Print Philippines 2015 at the Mall of Asia Complex, Pasay City.
The Pro C7100/C7110 5th station Production Press has new applications and will increase revenue streams. The newest line of printing devices comes with a revolutionary fifth-color station that enables customers to grow their businesses. Available for either white or clear ink, the added station provide the production color printers with a printing speed of up to 90 pages per minute (ppm), enabling printing business owners to expand their application portfolio and deliver outstanding outputs to their end customers.
The new RICOH Pro 8100S monochrome systems leverage on the company's intuitive black and white printing technologies ideal for data centers, print-for-pay operations and in-plants.
According to Irene Santos, General Manager and Division Head for Sales and Marketing of RICOH (Philippines), Inc., the two new printers are intended to complement the growing demands of the commercial printing industry in the country with its new products.
"The latest technologies of RICOH will bring revolutionary change to the printing industry," Santos said. "Customers are seeking for a more diverse and unique print output—now, with the two new printers in place, players from the commercial printing industry are guaranteed to expand their opportunities for success."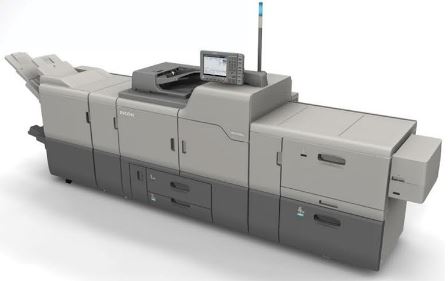 Outstanding monochrome print
RICOH's Pro 8100S series of mono production printers offer exceptional reliability, outstanding image quality and paper handling capabilities. It has a 1.86 GHz Celeron Processor, 2GB memory and 250 GB x 2 SATA to help users address complex print jobs and support finishing options for the client's advantage.
Designed to maximize success, the mono production printer supports high-volume usage and seasonal peak-printing volumes that has a duty cycle of 3,000k pages monthly. This provides bigger print opportunities for organizations that require massive print requirements like textbooks, luxury books, office documents, manuals and posters.
To ensure long print runs, the Pro 8100S has modified paper guides that are coupled with a revised airflow design which lowers internal temperatures. With the liquid cooling system, the printer can perform more efficiently because the temperature is maintained on the desirable level.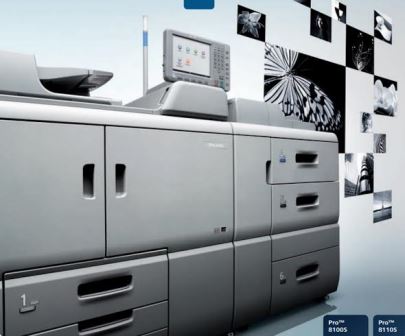 Since it is imperative for print businesses to produce high-quality visual print requirements, the Pro 8100S incorporates the new Process Control technology which sustains the quality of the image even on long runs. In fact, RICOH's innovative vertical-cavity surface-emitting laser (VSCEL) technology provides best-in-class resolution 1,200x 4,800 dots per inch (dpi) which creates exceptionally accurate and smooth, professional image quality.
Its top-of-the-line printing performance from textured to coated media ensures accurate duplex registration and easy setting of appropriate print requirements through enhanced paper library. A custom library for personalized media profiles is also set in place to hold up to 1,000 additional profiles.
Customers can also take full advantage of the Pro 8100S which has an improved flat paper path that avoids paper jams and tears. Furthermore, its new belt-fusing technology has a paper separation plate which does not contact the hot roller, preventing scratches and gloss streaks.
The Pro 8100S is geared with a double feed detection sensor to avoid misfeeds of pre-printed paper, ensuring print quality. In case the printer needs immediate attention, the status light pole will light up to minimize downtime.
For an end-to-end productivity, the Pro 8100S may be installed with peripherals like multi-folding unit, decurl unit, perfect binder, ring binder and booklet finisher.
Santos said, "This gives every business more print possibilities for their own customers."
Offset-like image quality
Since the owners of printing businesses demand tight delivery times on short length runs without compromising image quality, RICOH designed its Pro C7100X series to address this need.
The Pro C7100X has a high-performing 3.5GHz up to 3.8GHz with turbo Intel Xeon processor, an extended 2GBx8 memory and a powerful 500GB hard disk drive (HDD). Users can choose from two powerful EFI Print Controllers to suit the workflow.
In addition, the Pro C7100X has the same innovative vertical-cavity surface-emitting laser (VSCEL) technology which provides an optimum resolution of 1,200 x 4,800 dots per inch (dpi). It has an elastic fusing belt and advanced image control technology which ensures color consistency.
The printer's advanced technology is backed by its 5th station value-added applications intended for clear gloss and white toner, which goes on top of the CMYK colors. This produces high-impact quality on invitations, business annual reports, catalogues, postcards, direct mail, business cards, posters, packaging and window clings.
Santos said, "We expanded the opportunities for success by introducing value-added applications—the clear and white toner—that are interchangeable. Other products will require the user to finish the whole bottle before finishing the gold. Now, with our new product, customers can change the bottle whenever the need arises."
Since the Pro C7100X promotes flexibility in terms of the type of medium used, an expansion of application portfolio and delivery of unique outputs is guaranteed. It can run at up to 90 pages per minute in both color and black and white on thick stock up to 360gsm, promoting productivity during its operations. Textured and transparent media are also compatible since the printer has advanced toner transfer technology. For banners, sheet printing for media up to 700mm is also supported.
Customers who will use the Pro C7100X can benefit from its increased reliability and productivity since it offers a lifetime of 14,400K or five years, and a recommended document volume range of 30-140K, which can go to a maximum of 240K. Furthermore, it boasts a robust functionality, offering ease-of-use enhancements that simplifies file management and job workflow in real time.
The digital colored printer is built with the large capacity tray (LCT) indicator which signals what trays are not in use. Through LED lamps, the users are informed of the paper feed's status to prevent work interruption.
For a maximized uptime, the Pro C7100X has a built-in liquid cooling system which makes long operating hours possible. With the efficient cooling system, the temperature is maintained at a desirable level.
The Pro C7100X also includes new options for the users. The product may include a multi-bypass tray, which may contain 500 additional sheets depending on the thickness of the medium, a secured tray for valuable papers, standard finisher and booklet finisher, a multi-folding unit, which offers up to six folding options, ring binder, plockmatic booklet maker, which supports heavy duty staple mechanism, a buffer pass unit, which prevents toner adhesion and high capacity stacker, which can stack up to 5,000 sheets on shift tray and 250 sheets on one proof tray, to name a few.
Going green
Both the RICOH Pro 8100S and the Pro C7100X have an eco-friendly indicator, which helps increase paper usage awareness thereby minimizing wastage. This displays the paper reduction and duplex ratios of the user.
Aside from this, new recovery methods are integrated, including the energy saving mode, which reduces power consumption. This is also backed by the Power On/Off timer which prevents high energy costs.
Manuel Peralta, president of RICOH (Philippines) Inc., said that the company has been developing its products in line with the need for sustainability.
"The main business of RICOH is to make copies on paper, but we never fail to give back what is due to the environment," Peralta said. "We see to it that all our products lean towards sustainability, may it be our multifunction printers or the unified communication systems."
RICOH brings forward its Total Green Office Solution, which supports visualizing, analyzing and minimizing of environmental impacts and costs that occur during the selection, use and recycle of the company's products and services.
"As a global innovator, we are starting to move out of our boxes and divert our skills to IT products and services. We aim to become an ultimate solutions provider for big, medium and small enterprises," Peralta said.
RICOH (Philippines) Inc. has been in the country since 1997 under the name, Inchcape NRG. Two years later, it focused on selling exclusive RICOH products to the Philippines.
Its product catalogue now includes multi function printers, audiovisual communication products, digital production printers and other related supplies and services. With its strong presence in over 200 countries, RICOH rapidly builds a strong presence in the country, helping owners of print businesses streamline their operations and cut staggering operating costs.
Because of its commitment to improve quality of living, RICOH believes that "change is primarily driven by imaginative thinking." This thrust served as the company's foundation in developing its products that go beyond function and aesthetics.
Peralta concluded, "Our commitment to excellence helped us provide the highest level of technology and service across all markets. Moving forward, we aim to offer more than just solutions—for our part, we will help address the customers' issues to help them grow with us. For the coming years, that's our ultimate goal."