From L-R: Maynard Ngu, Cherry Mobile Chief Executive Officer ; Celebrity Endorser, Michael V ; Ernest Cu Globe President and CEO
Leading Philippine mobile phone company Cherry Mobile has entered into a co-branding partnership with the country's number 1 mobile brand and purveyor of the digital lifestyle Globe Telecom to launch the new Cherry Prepaid SIM and phone bundles.
The prepaid service, dubbed as Cherry Prepaid powered by Globe, aims to be a game-changer in mass market mobile connectivity that combines high quality mobile phones and prepaid service into one affordable package. With flexible starter options like the Cherry Prepaid SIM and phone bundles for as low as P399 and a SIM-only option for only P29, users can immediately call, text, and surf the Internet.
"This year marks another milestone for the company. After dominating the market with its hip entertainment-on-the-go TV and multimedia smartphones, Cherry Mobile gets even better as it partners with Globe to provide Filipinos with the newest and most diversified prepaid mobile service – the game-changing Cherry Prepaid powered by Globe," says Cherry Mobile Chief Executive Officer Maynard Ngu.
Globe President and CEO Ernest noted that the co-branding agreement forms part of the telco's commitment to enable the digital lifestyle of the mass market segment, leveraging on Cherry Mobile's strong foothold in the prepaid market with its compelling device offerings.
"With competition in the mobile industry getting more intense and cutthroat, this co-branding agreement will allow us to explore business models that will generate new revenue streams as well as strengthen our position in the prepaid segment and as the network of choice for smartphone users," Cu said.
What makes Cherry Prepaid more exciting is the bonus Load feature exclusive to all Cherry Prepaid subscribers. Depending on your starter package, you can receive P10 to as much as P300 Bonus Load monthly which you can use to surf the Internet, text all networks, and call and text any Cherry Prepaid subscriber.
Users can choose between a P399 Lite Bundle that comes with a CP1 Bar Phone, a 999 Big Time Bundle that comes with a Cherry Mobile Astro Smart Phone, and P1699 Partner Bundle that comes with two mobile phones: a Cherry Mobile Comet Smart Phone and a CP2 Bar Phone. All Cherry Prepaid Phone Bundles come with a Cherry Prepaid SIM and freebies so one can immediately enjoy using the service.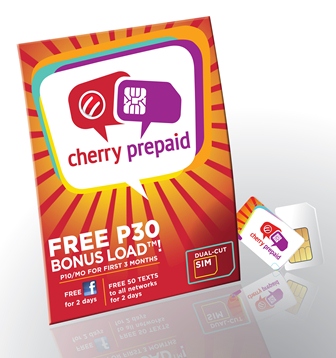 With  as little as P10 of your Bonus Load, you can enjoy an entire day of Clash of Clans, 1 day chat on Facebook Messenger, 3 minutes on Youtube, 10 texts to any network, 20 texts to any Cherry Prepaid subscriber, OR a 30-minute call to any Cherry Prepaid number. Enjoy more text, more calls, more chat and surfing. In addition, the Bonus Load is not a one-time perk, but an exclusive privilege enjoyed by all Cherry Mobile users.
"We are constantly trying to push and redefine what it means to be connected, and Cherry Prepaid's unique offers like the Bonus Load; the CM365 option that allows the SIM to stay active for a year even without load which is perfect for OFW's; as well as the CM399 which has the longest data validity of 60-days for data usage and other mobile internet offers that can be rollover; will empower more people than ever before," Ngu added.
"This partnership with Cherry Mobile serves as a vehicle for us to provide mobile internet services for every Filipino to ultimately empower their digital lifestyle, further increasing smartphone penetration in the country and positioning the Philippines as the next digital lifestyle capital of the world," expressed Cu.
Globe remained the undisputed leader in the mobile data segment with mobile browsing and other data revenues reaching P15.1 billion for the first nine months of 2015, up by a solid 48% from P10.2 billion a year ago. Mobile data users grew by 126% year-on-year, while mobile data traffic increased by 89% from previous year's level.
In 2009, Cherry Mobile CEO Maynard Ngu envisioned Cherry to become the brand that has "Everything for Everyone," providing handsets that cater to different age groups and match different lifestyles. In the span of six years, Cherry has already reached several milestones and has become the number one mobile phone company in the Philippines for the past two years.
"We realized early on that in order to fully achieve what we sought out to do, we have to remain steadfast in our belief that real innovation happens when it helps to benefit the majority, and not just the few," Ngu said.
He further added that: "When people can enjoy the fruits of the innovation that Cherry Mobile provides. When Cherry, the pioneer in mass market mobile connectivity can combine high quality mobile phones and prepaid service into one affordable package. We can then safely say that my dream, our dream is no longer just a dream, but a happy reality."
As Cherry finally reaches its dream of providing "everything for everyone", Ngu further said that: "In reaching this dream, one cannot help but dream some more – to provide the countless Filipinos access to data, of bringing the internet to the masses."