Photo Caption (L-R): Mr. Andy Ow – Regional Manager of Toshiba TEC Sinagapore, Mr. Edgardo Isleta Jr – Tricom Dynamics President and CEO, Mr. Vicente Tantuico Jr. – EVP and COO of Tricom Dynamics and Mr. Raymond Isaiah Phua – Assistant Solution Manager of Toshiba TEC Sinagapore
Toshiba TEC Corporation and Tricom Dynamics Inc have introduced the addition of the three e-STUDIO series to its multifunction printers (MFPs) line. The new MFP lineup includes two colour MFP series (5 models) and one monochrome series (5 models) all of which feature a new platform design with the basic colour changed from ivory to modern sophisticated black.
The MFPs blend a newly-engineered software and advanced hardware set to address the print, document management and workflow needs of virtually any business application. The new software and hardware elements, which include Intel's new processor, a customizable tablet-style user interface (UI), Embedded Application Platform and Dual-Scan Document Feeder (DSDF) highlight Toshiba's innovative product portfolio. All of the features are designed to help organizations operate more efficiently and cost effectively while improving workflow.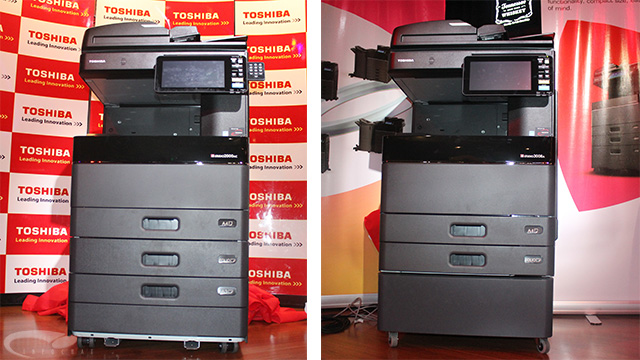 Toshiba e-STUDIO2000AC and e-STUDIO3008A printers
Multitasking and handling complex tasks like embedded optical character recognition (OCR) applications are also simpler with the inclusion of the powerful multi-core Intel Atom processor. The Embedded Application Platform makes it possible for the MFPs to easily use emebedded or third-party applications and connect to the cloud enabling mobile users to work anywhere.
Toshiba's 9-inch tablet-style UI facilitates a more intuitive user experience. The latest e-BRIDGE Next controller, working in concert with the UI, provides the flexibility to accomodate any user's unique workflow needs.
"This newest premium line-up represents the most revolutionized MFPs in our product history," said Andy Ow, Country Manager for Philippines. "By tapping into every industry's individual requirements, we integrated high=tech interface with customization into our MFPs to meet the various demands of today's business users."
The e-BRIDGE controller's colour profile tool allows for the creation of profiles to adjust colour for varying media types, lighting or to match specific Pantone colours. The DSDF helps users complete even the most challenging of projects by delivering up to 240 images per minute while holding as many as 300 sheets at a time.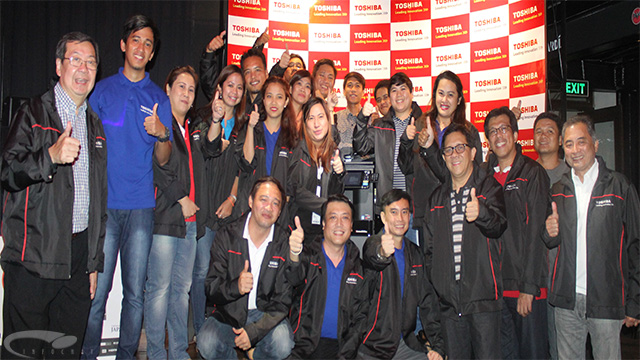 The team behind the successful launch. 
Toshiba's advanced e-STUDIO models feature a more durable and reliable engine to maximize uptime and reduce the total cost of ownership. A new sophisticated black matte look completes the new products innovative design while complementing even the most contemporary of business settings.
Toshiba's latest MFPs additionally reflect its commitment to a more sustainable planet. The company's 10 new products all meet the stringent criteria of major environmental programs standards, such as EPEAT Gold and ENERGY STAR.
Toshiba's new colour product portfolio includes:
e-STUDIO2000AC / 2500AC
e-STUDIO3005AC
e-STUDIO3505AC
e-STUDIO5005AC
Toshiba's latest monochrome line features:
e-STUDIO2508A / 3008A / 3508A / 4508A / 5008A