Winners of Globe Labs Google Cardboard Hackathon celebrate their victory
Imagine interacting with dinosaurs and other pre-historic animals or traveling to places you have not been to – all using the power of your smartphone and a cost-effective, easy-to-build virtual reality player.
This is what Raven Duran, Geoff Diaz, and Edmund Salcedo Jr., graduating IT students of Mindanao University of Science and Technology and Co-Founders of Webnified.com web development startup came up with to win the grand prize of P50,000 in the first Google Cardboard Hackathon organized by Globe Labs, the developer community of Globe Telecom.
The app called 3DU is a Modularized Augmented and Virtual Reality System Education Technology where users can talk to each other in real time as well as learn, explore and challenge themselves in a virtual ever growing university. It is designed for students and teachers who would like an immersive real-world experience without leaving the comforts of the classroom.
Second place went to monstAR, a 3D Virtual Pet/Monster on an Augmented Reality experience of Erwin de Torres, Jeffrey Santiago, Karl Patrick Camota, and John Carlo Rolluqui who took home P30,000 while third spot went to Dayo-rama which gives users a chance to watch history as it unfolds. Dayo-rama creators Rai Icasiano, Karina Zambrana, Rex Cruz received P20,000.
To work, the virtual reality apps have to be downloaded on a smartphone fitted in a Google Cardboard viewer kit. The kit may be created using simple tools such as a fold-out cardboard, lenses, magnets, Velcro, and a rubber band or bought ready-made.
"We want to help increase the learning engagement of students and teachers without making them spend a lot. This desire gave us the drive to fly to Manila and join the Google Cardboard hackathon which we luckily won. Through the support of Globe Labs, we hope to create more virtual reality scenarios to help them with the lessons – from history, to science, to practically anything," said Duran, the team leader.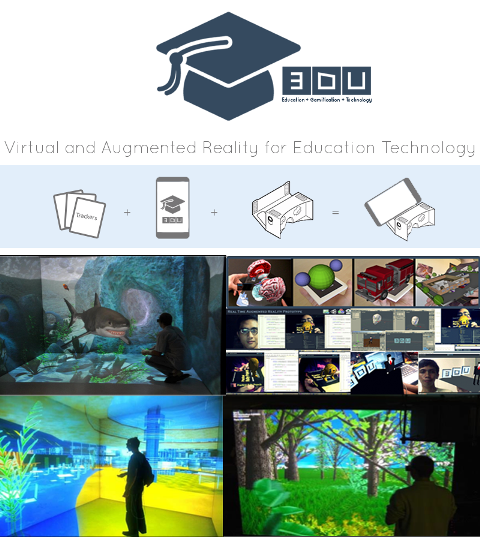 1st Prize winner 3DU's immersive virtual university app
Anne Michelle Santos, Developer Relations Manager of Globe Labs said: "We are thrilled with the creative and interesting apps which the developer community has produced for Google Cardboard and which we may eventually adopt to give our millions of customers a different kind or virtual reality experience."
Once the 3DU app is fully developed, Globe Labs will provide an additional P80,000 to the team, help them publish the app in Google Play, and assist in its promotion. Those interested to support 3DU or get updates can visit http://3du.webnified.com/.
Meanwhile, 3D mood board and sound space, CONFETTI won P35,000 under the Ayala Museum special category. CONFETTI allows users to paint images and generate sound through movement. It also generates a collage made of clippings from current Ayala Museum shows.
"We wanted to explore the space that Virtual Reality provides, by creating something that doesn't replicate existing/actual reality. There's merit in recreating the world or the reality we're familiar with, but we were intrigued by the possibilities that can be made with VR, as we treat the space it generates as a blank canvas of sorts. Basically, anything is possible within VR. We were also motivated by the partnership with the Ayala Museum, hence our decision to build something that was heavily inspired by art, sound, and the process of creation," said young developers Carl Rosario Flor, Claudine Rodriguez and Mike Co Lu.
They added: "One thing we realized during the competition is that innovation doesn't have to be grand or complicated. It always begins with the intent to challenge existing standards, and thinking that there's always room for improvement. In filling our hearts with this desire, we believe that we can solve problems in our society, even with just an idea and the ability to build things."
The 3DU and CONFETTI apps will be displayed at the new Globe Gen3 Stores in Limketkai Mall, Cagayan de Oro City and SM North EDSA in Quezon City. CONFETTI will also be used at the Ayala Museum.