Canon Philippines President and CEO Mr. Lim Kok Hin
This November, Canon's EOS M10, the newest addition to the EOS M range of mirrorless interchangeable-lens cameras, is arriving in the Philippines. Pairing superior image quality associated with an EOS DSLR with the convenience of a point-and-shoot compact, the chic design and light weight (approximately 301 grams) of the EOS M10 makes it the perfect companion for Filipinos today who love creativity while keeping everything in style.
The EOS M10 is paired with the new, compact EF-M15-45 mm f/3.5-6.3 IS STM lens. Equipped with a tilt-type LCD touchscreen that extends to 180 degrees, the EOS M10 has an intuitive user interface that also enables selfies from different angles. Photographers also benefit from an enhanced user experience with its Creative Assist editing capabilities and connectivity features.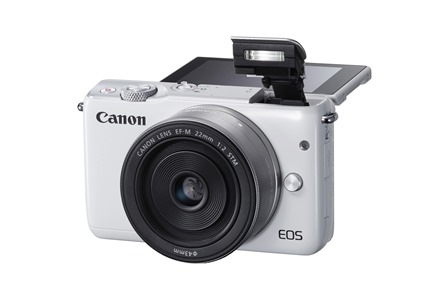 "Canon takes the imaging experience of smartphone camera users to a new level with the new EOS M10," said Vinchy Sanchez, Canon Marketing (Philippines), Inc.'s Director for Consumer Group. "As straightforward and convenient as a smartphone, EOS M10 goes with anyone's lifestyle and taste. Canon brings the experience a notch higher with superior image quality that only comes from Canon's latest DLSR technology. Moreover, its compatibility with the wide range of EF lenses, connectivity and Creative Assist features bring forth a bigger world of creative possibilities to its users, too."
Smart design for fun and seamless self-portraits
The intuitive and user-friendly 3.0'' touchscreen LCD enables quick and direct access to functions, allowing users to change camera settings such as shutter speed and aperture at the tap of the screen. The EOS M10 introduces features that enhance image quality for taking creative and convenient self-portraits. When the LCD screen is angled to 180 degrees, a shortcut option to activate the self-portrait mode enables quick adjustments to parameters for taking the best selfies – brightness, smooth skin effect, background defocus, flash and self-timer.
Have fun with the EOS M10's Creative Assist feature, consisting of a series of six sliders such as Blur /Sharpen (Aperture), Darker/Brighter (Exposure), Cool/Warm (White Balance) that enables even the new photographer creative control of their pictures and the fun of experimenting. Users can easily make adjustments and see the effect of these settings on the images, providing amateur photographers with a keener appreciation for photography.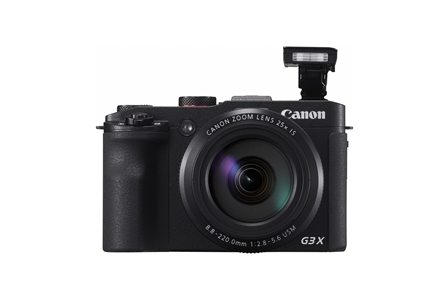 Canon announced the launch of the PowerShot G3 X, a new premium high-zoom digital compact camera in the PowerShot G series. The camera is powered by a large 1.0-inch CMOS sensor, enabling the camera to achieve superior image quality even in low light environments. The camera features a 24-600mm 25x optical zoom lens and improved Zoom Framing Assist, which opens up a new range of imaging possibilities. Users can expect enhanced movie recording through the camera's improved Dynamic Image Stabilisation (IS) system, a technology that stabilizes moving images.
"A perfect companion for both leisure and advanced photographers is Canon's PowerShot G3X high-end digital compact camera," said Vinchy Sanchez, Director for Consumer Group of Canon Marketing (Philippines), Inc. "It boasts of enhanced video capabilities, with versatile high-zoom lens and powerful 1.0 inch image sensor, that can capture superior images at any situation."
The PowerShot G5 X is first G Series model with a 2.36 million dot OLED EVF for focused composition while the PowerShot G9 X is a powerful camera packed in a slim design reminiscent of a traditional camera.
New zoom lens developed from EF lens technology
The prowess of the large 1.0 inch type CMOS sensor on PowerShot G3 X, complemented by Canon's new cutting-edge zoom lens, enhances image quality and maximizes performance. Derived from Canon's EF lens technology, the PowerShot G3 X is designed to deliver stunning image quality even in high speed shooting scenarios, with its high quality lens fast auto focus capability.
The second lens group is equipped with IS for optical image stabilization. Three UD lens elements and four aspherical lens elements are used in the construction of the lens. The combination of these components provides excellent aberration correction over the entire 25x zoom range, resulting in optimal image quality.
Powering the zoom is a high-speed and quiet Micro USM II (UltraSonic Motor), providing the user with the possibility of high speed focusing on a moving subject, while maintaining smooth operation for high quality video and sound recordings with minimal noise disruption.

Canon announced the launch of two new models in the PowerShot G series line of premium digital compact cameras. While developed for different end users, the PowerShot G5 X and G9 X are both built with the latest Canon imaging technology and come with a large 1.0" 20.2 megapixel CMOS sensor that renders higher sensitivity for superior image quality.
Designed with the ease of photographer in mind, the cameras feature new optimized button layout on the user interface. The touch screen complements the control ring around the lens for easy adjustments to camera settings such as ISO speed, aperture and focus.
"Canon has harnessed imaging know-how to develop these new and versatile compact models that deliver stunning images and HD videos with ease.'' said Hayashi Naohiko, Senior Director and General Manager for Regional ICP Sales and Marketing, Canon Singapore. "The PowerShot G5 X will delight serious photographers especially in less than ideal lighting conditions as the built-in EVF enables a true preview of the image while the PowerShot G9 X will appeal to style conscious users who desire a powerful yet convenient everyday camera.''
Superb image quality
The PowerShot G series is associated with high image quality approaching the EOS line of DSLR cameras. The powerful high sensitivity CMOS sensor along with proprietary DIGIC 6 image processor creates Canon's high-sensitivity (HS) system to provide photographers with high performance point-and-shoot cameras in varied lighting conditions. The high ISO speed of 12800 produces expressive images with beautiful contrast and crisp details even when shooting in low light situations.
The PowerShot G5 X uses a 24-100mm (35mm equivalent)  4.2x optical zoom lens, while the PowerShot G9 X uses a 28-84mm (35mm equivalent) 3x optical zoom lens providing the casual user with sufficient coverage in varied shooting scenarios This versatile range covers wide-angle shots for group photography,  in tight enclosed spaces and telephoto range to get closer to distant subjects.
The circular 9-blade composition and large apertures of f/1.8 and f/2.0 on the PowerShot G5 X and G9 X respectively, enables beautiful bokeh (blurred background) effects in macro photography.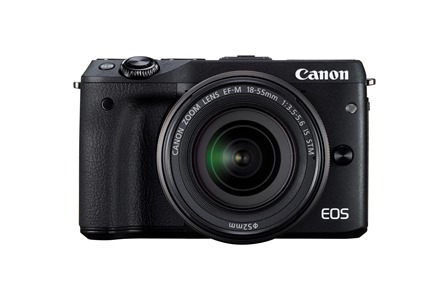 Canon launched the highly-anticipated and advanced EOS M3 – Canon's third-generation mirrorless camera – placing it at the forefront of the EOS M class. The Canon EOS M range of cameras combines the performance and versatility of a DSLR with the portability of a compact camera.
Powered by Canon's Hybrid CMOS AF III technology, the EOS M3 features fast AF speed and a 24.2-megapixel CMOS sensor working in tandem with the latest DIGIC 6 image processor to ensure superb image quality. Complementing the white option of EOS M3, Canon reintroduces the most compact lens in the EF-M range, the pancake EF-M22mm f/2 STM, now also available in silver.
"Photographers who want the flexibility and versatile features of a DSLR camera without its bulk can find a new companion with Canon's latest mirrorless camera, the EOS M3," said Vinchy Sanchez, Director for Consumer Group of Canon Marketing (Philippines), Inc. "It is packed with Canon's newest, fastest mirrorless autofocus technology, and pairs seamlessly with Canon's range of interchangeable lenses for an expansive variety of options."
High Speed Autofocus (AF) ensures key moments are captured 
EOS M3 comes equipped with the newly developed Hybrid CMOS AF III technology. With optimization of AF elements on the CMOS sensor auto focusing during live view shooting  is approximately 6.1x faster than that in the EOS M (equipped with the first generation of Hybrid CMOS AF technology), making it the highest AF speed in the EOS M class. Under certain conditions, focus is attained solely from the rapid focal plane phase difference method, resulting in faster and precise AF and a better user experience.
The increase in AF speed is crucial for users to swiftly snap images in clear focus without missing out on key moments. This would come in handy for users looking to capture moving subjects; pet owners and parents with active children would appreciate the improved AF speed.