L-R: Mr.Albert Wong,General Manager Mobile Internet Group,TCL Communications, Mr.Lei Zhang,Country Manager Alcatel Flash Phil.
Smartphones have transitioned from being merely a communication device to an all-in-one mobile technology that complements the lifestyle of different people. While functionality and simplicity are often considered by mobile phone users, a new factor comes in: how the phone feels in the hand of the user.
Back in 2010, consumers believed that a 3.5-inch screen best meets their expectations of having a handy phone that easily slips into their pockets. Five years later, the norm has changed—most mobile phone users opt for smartphones that fall under the five-inch category to get the overall experience of a tablet and a mobile device in one handset.
"Since the trend of owning a five-inch phone boomed in 2015, most mobile phone manufacturers now lean towards developing products that may be classified under that category. However, some of them are missing out on the rather more important considerations in an attempt to ride with the wave," said Michael Chen, Deputy General Manager & Product Strategy Director of Mobile Internet Group, TCL Communication. "The thing is, consumers are looking for both functionality and sophistication in one mobile device, and that's just what we're going to offer."
Alcatel Flash, one of the leading mobile phone developers in Asia Pacific, launches its Flash 2 phone to offer an ergonomically designed smartphone that fits perfectly in the user's hand. According to Michael Chen, the new flagship phone offers a perfect feel in the hand due to its remarkable workmanship.
The newly unveiled Flash 2 phone has a 147-gram weight, designed with a touch of sturdiness and comfort. The arc of the phone's back offers a delicate yet sophisticated feel when held in hand. The delicate rims give a comfortable sense to the fingers with noticeable treatment for smoothness in design while allowing no space for slippage. It has a 5.5-inch screen, runs on an Android Octa-core 1.4 GHz and with a Li-Ion 3200 mAh battery, perfect for users who want to make the most out of the Android experience. This phone is a real eye-candy with its volcanic ash color.
"The Flash 2 found its golden curve with the integration of being sensational and being rational. What makes it truly amazing is that, the back of the phone feels delicate and soft with a touch of velvet-like gritty texture slowly permeating into the palm—making it difficult to put down," Chen said.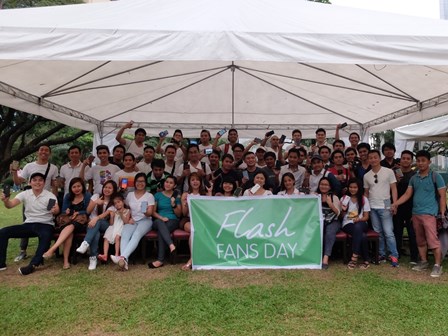 Capturing moments one flash at a time. Alcatel Flash held its Fans Day recently at the Ayala Triangle Garden. According to Sheree Gayas, Country Marketing Manager of Alcatel Flash, the brand's customers serve as the "bread and butter" of the company, they are vital in maintaining the company's steady growth. "Alcatel Flash Philippines is one of the best performing countries in Asia Pacific both in sales and social media engagement, and we would like to share that triumph with our fans. This is our way of giving back to our loyal customers—to ensure that we do not only offer a value for money smartphone but also to let them experience how fun it can be to be part of the Flash family. We want to engage with them in a personal level to understand further regarding their smartphone needs and how their lives revolve on it." Meanwhile, Leomark Aday, 23, attended the Flash Fans Day, bringing with him his new Alcatel Flash 2 phone. He said, "So far, Alcatel Flash exceeded my expectations. The Alcatel Flash 2 phone is definitely one of the best phones I've ever had." The Alcatel Flash Plus is sold through the Alcatel kiosks and selected dealers nationwide, while the Alcatel Flash 2 is exclusively available in Lazada.
Michael Chen recalled that the sophisticated design of the Alcatel Flash 2 was attributable to Eric Chen, product manager of the Flash Team involved in the Flash 2's research and development. The 25-year-old developer put into consideration today's modern need, bearing the young people in mind who grew up in the age of mobile phones just like him. It was through his creativity when the copy "Perfect In Hand." was first coined, referring to the smartphone.
Eric Chen was caught saying, "Before, our idea was just about starting from the draft and then making repeated improvements. This is because there exists differences among the hands of people and even for the same person—the left hand is not necessary the same as the right one regarding the feature. So even the slightest differences may substantially affect the details of design, resulting in big differences in users' experience."
It was during this time when about 1,000 hands have been involved in the testing stage. As adjustment of the feel in hand resembles tailoring to one's measure, it takes not only courage but also great patience to arrive at the curve that best fits into the hand. It is during the countless times of tests that their previous ethos of making a "Perfect In Hand." smart phone has gradually taken shape.
"We don't want to follow blindly the market trend. Our design will take into consideration more factors. We are concerned with the market response, but we would like to provide consumers with more humanized and more individualized smart phones," Eric Chen said.
He added, "In choosing the material for the back of Flash 2, we are looking for a sturdy, comfortable and warm feel to offer consumers the sense of ease and pleasure. Eventually, we decided on the fluff paint, which meets in every aspect our requirements of the texture of the back. It offers a sense of stateliness as well as a unique touch of softness while being wearable and when there is sweat in the hand, there will not be sticky fingerprints left on the phone."
Aside from its very sleek features, the Flash 2 boasts its quick shutter button which may be found in the right part of the phone's bottom. This makes it easier for the users to keep pressing the button for fleeting moments and shoot within two to three seconds.
Eric Chen concluded, "With the fierce competition of manufacturers in terms of developing phones with ultra-specs for pixel, runtime and system, Alcatel Flash continues to gain ground in developing phones that boasts of design. In the years to come, we will continue to develop phones that are 'Perfect In Hand.' all for the young generation."