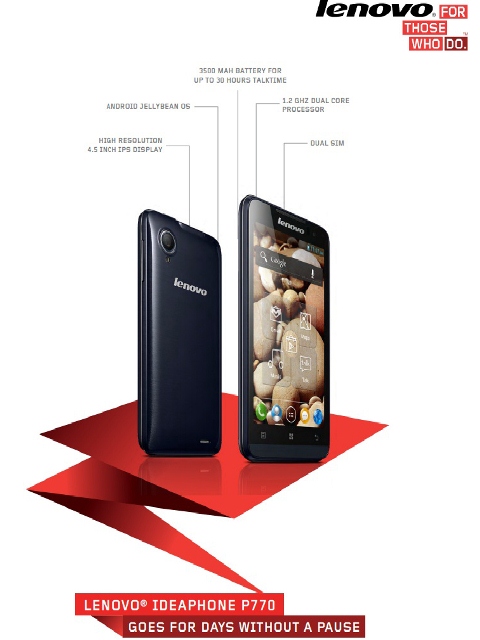 Smartphones, smartphones, smartphones. They come out so frequently and with so many new features  that at times we feel we need to take a breather just to appreciate all the innovation. Sometimes all we  need is a stable, reliable phone that would be able to keep up with all those features. Enter the Lenovo P770.
The P770 is far from being a petite phone. One will instantly notice its bulk and substantial heft. Being on the heavy side, though, has its advantages. For one, it feels sturdy enough despite the plastic build. The added weight will also ensure you wouldn't forget you actually have a phone. (I've known people forgetting and losing their barely-there phones.) The screen also seems it could withstand a beating, though the 4.5-inch, qHD display fails to impress when it comes to color saturation. Styling is, um, a little on the bland side. You'd just probably get asked why you have a phone that's from a computer maker. Overall, the P770 isn't one to turn heads, but at the same time it isn't one to turn off people, too.
The rest of the spec sheet is strictly midrange. It has a 1.2 GHz, dual-core ARM Cortex processor with 1 GB of RAM, a 5-megapixel camera, and the usual connection such as Wi-Fi, Bluetooth, and GPS. There's no LTE, but not a lot of people would be disappointed with HSDPA speeds, especially with the slow rate local telcos are rolling out LTE in the country.
Despite being a midranger, it does manage to surprise by having Jelly Bean out of the box. With daily use, however, the rather mediocre processor (by today's standards) starts to show its limitations. Lags are quite noticeable in going through menus and opening apps, and users accustomed to high-end models would feel reasonably disappointed. Despite the slight pauses, I didn't experience force closes, and after a while I got used to a slightly slower navigation.
But the real killer feature of this phone isn't some new, out-of-this-world tech. It's the battery. Yes, folks, the bulk isn't just for show. The P770 packs a whopping 3,500 mAh. For comparison, that's larger than the one inside the Galaxy Note 2 which is a good inch bigger than the P770. How does this translate to real-world use?
How about five to six hours of battery with nonstop Youtube streaming via 3G and listening through the external speakers? I actually had problems draining the battery. Imagine that.
Personally, it's been really refreshing using a gadget that I don't need to charge at least once a day. It throws energy worries out the window. You can turn on all sync options for apps like Facebook and Twitter without being afraid that you'll end up with a very expensive paperweight before you reach home. Not all of us have cars where we could charge to and from work, you know.
At the end of the day, some of us would rather have a phone with not-so-high-tech features that we could use to our heart's content than a do-it-all phone that dies on us after a few hours. And when we're talking battery life, there aren't a lot of phones right now in the country that can surpass the endurance of the P770.