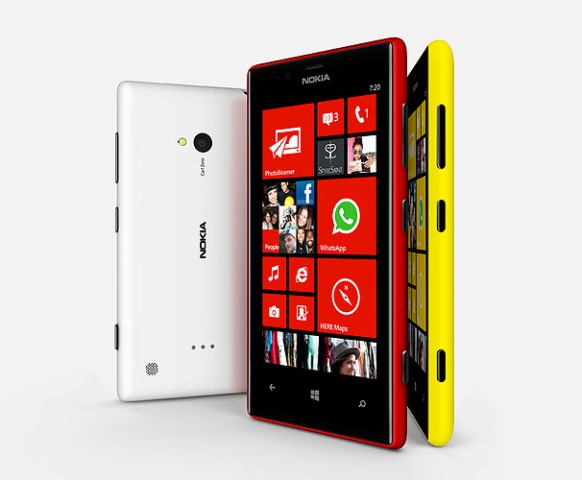 Aside from the relative success of flagship Lumia 920, Nokia has been having a hard time gaining household notoriety with their smartphones the used to enjoy in their heyday. Ask a non-techie friend about the Lumia models and some wouldn't even be able to answer what it is. It isn't due to lack of effort from Nokia's part as they've actually been releasing Lumia models the past couple of months to cover the wide strata of smartphone users. One of the most exciting (been a while since I used that word to describe Nokia phones) is the new Lumia 720.

If you've ever seen a Lumia phone, the 720 will instantly look familiar. One thing Nokia has going its way is their design language – you won't confuse their Lumia line with any other manufacturer's. While the 920 is somewhat on the heavier, unwieldy side, the 720 fits just right with its 4.3-inch screen. The weight has been drastically reduced, and the finish feels somewhat nicer. I had the white version and while it won't appeal to everyone, I found the feel of the not-so-glossy, polycarbonate body better than even the 920's and one-handed operation isn't such a struggle anymore.
Specs are somewhat a mixed bag. The 720, announced just last February during the Mobile World Congress, is marketed to be the top mid-range phone. And yet, it has microSD support, a wide-angle, front-facing camera and a humungous battery (we'll get into that in a bit.) The rest of the part, though, seem uncharacteristically low-end, even for a mid-ranger. It has a 1ghz, dual-core processor with just 512 of RAM. It also packs a pedestrian 5-megapixel rear camera (not Ultrapixels, sadly.) that takes nice enough photos in bright outdoor settings, but fails to impress indoors. And the screen resolution? A palrty 480 x 800. For comparison, the iPhone 5's smaller screen sits at 1136 x 640. Go figure.
Alas, it's not always about raw specs. Real-world usage is what's more important than gibberish tech terms, and this is where the 720 shines. The screen, despite what I said in the preceding paragraph, is plenty sharp with great contrast. Colors are vibrant and unless you're the weird dude who uses a magnifying glass to test screens, you won't be able to spot a single pixel. Zipping through menus is a joyful experience, with the mediocre processor and RAM holding its own. Magic? Not really. More of a testament to the efficiency of the Windows Phone OS. That said, I wouldn't recommend getting the 720 for its gaming prowess, although there aren't much nice games available at the Windows Store.
I mentioned the battery, didn't I? Well, Nokia was generous enough to stuff the 720 with a 2,000 mAh battery. What this translates to is with moderate to heavy use (3-4 hours of browsing, about 20 -30 calls, 100 texts and a few episodes of Breaking Bad) you'd still have a little juice left for the following day. I'd still charge it nightly, but it's really nice to know that if you abuse it, it won't give up on you until you get to a charger. As you may have noticed with my previous reviews, this counts a lot because what's the use of a super great phone if you can't actually use it, right?
So, is it the best mid-ranger? If you're not an avid user of apps (this is a Windows phone, after all) and just want a premium, high-quality, and dependable phone, it just might be. It looks good, has a lot of juice, and nails the basic smartphone functions to the hilt. It's not, however, for power-users who need an all-in-one, super powerful smartphone. But then again, you wouldn't be looking for a mid-ranger if you need all the bells and whistles, would you?