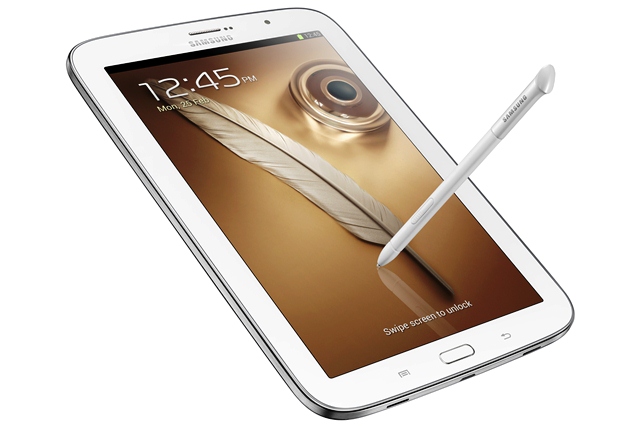 The Note 8 is a full 8-inch tablet not to be confused with the smaller Note II which is actually a phone. But the name does seem logical though, with the Note 8 being essentially an oversized Note II. The materials, buttons, and layout–everything is essentially the same.

The Note 8's screen resolution is slightly higher than that of the iPad Mini's, and it shows. Colors are more vibrant and you notice less of the jarring pixels on text than those present in the Mini. All in all, the screen proved capable and adequate for anything I threw at it: browsing, watching movies, ogling pictures, and others. And for photography enthusiasts, it has a 5 megapixel camera that takes mediocre pictures. There's also no flash, probably to discourage you from taking pictures using a tablet.
Performance-wise, I didn't experience any hiccups or slowdowns with the Note 8. The Exynos quad-core 1.6 GHz processor offers plenty of power and runs Jelly Bean 4.1.2 with aplomb. For those coming from an Android phone, particularly Samsung phones, you'll instantly feel at home with the Note 8. Everything is laid out almost the same way as with the Note II or S3 with a few minor additions or omissions within Samsung's own TouchWiz interface.
One of the defining features of the Note 8 is the S Pen. It's the same stylus found on the Galaxy Note line, and it has been refined for the Note 8. It has it's own suite of apps that you can play with. You can take notes, draw, cut and paste pictures, copy items, and a lot more. However, it's capable of so many things that you actually need to allot time to learn them all. Still, to a journalist, it offers tons of functionalities. I could write down a sound bite from an interview, paste it on an existing image, and e-mail it to my boss, or I can download a PDF file, make annotations, and send it back to my producer.
Battery life, sadly, isn't Note 8's strong suit. On standby with Wi-Fi of battery dropped four percent in a span of eight hours without use. During heavy use with all sync options enabled, I was able to get a day and a half out of it which is rather mediocre.
In the end, it all boils down to how you're going to use your tablet. Are you going to use it for content creation more than for content consumption? If so, the Note 8 is a safe bet. However, you will be let down slightly by the fact that it's more expensive than many of its competitors without looking as such. But as a blend of power and
functionality, the Note 8 hits the mark.