When the news that Samsung will be releasing a new phone, one of the more pressing questions being asked is if the new Samsung phone will be the phone that will challenge Apple's iPhone?

The new Samsung phone that we are talking about here is the recently launched Samsung Galaxy S4. Samsung had a grand launch in New York last March 14, 2013 at the Radio City Music Hall. Let us discuss briefly what the Galaxy S4 has to offer:
– 5-inch screen and 13-megapixel built-in rear camera
– 69mm wide, 7.9mm thick, weighs just 130 grams and is encased in polycarbonate
– voice recognition feature where users can dictate, reply, forward and save messages using only verbal commands
– translator feature which can understand nine languages
– finger hovering just above the screen, and applications that react.
– tilt (Smart Scroll) the phone forward or backwards to scroll up and down a Web page
– users can now use both the front and rear cameras at the same time
– new Snapdragon S4 Pro, 1.9 Ghz processor
– 2 gigabytes of RAM and will come with 16GB, 32GB or 64GB of storage, along with a microSD card slot for additional storage capacity
– Smart Stay keeps the screen alive and bright if the phone sensed you were reading or watching something
– Smart Pause will pause a video if it senses you're no longer watching it
– S-Health app that track your workouts, daily intake and weight, and monitor your blood pressure, and blood glucose levels
– Air Gesture feature allows a user to accept a call, change a song or scroll a Web page with a wave of the hand
– built-in infra-red diode, so it can control an entertainment center as a universal remote.
– Group Play that allow users to transfer and instantly view or play documents, music files, photos, and other content to other Galaxy S4 handsets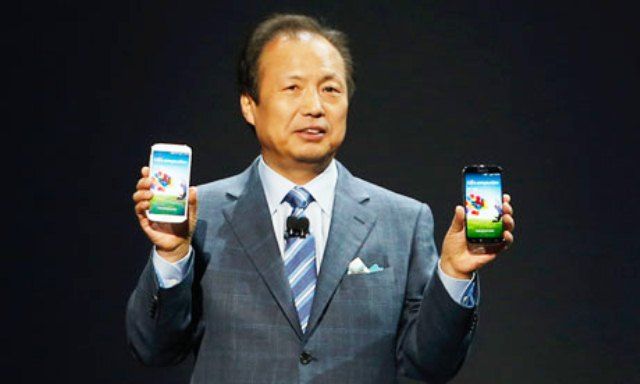 These are just some of the features that the new Galaxy S4 has to offer, and most of which are not offered by the iPhone. The next question is do we need these features? We'll it remains to be seen. Maybe now you might say No, but once you've tried it perhaps it might change your perception about the feature.
So let us answer the pressing question first, will the Samsung Galaxy S4 finally be the iPhone killer? Not yet for now I think. The features the comes with the S4 still lack the business tech appeal. And Samsung knows this very well that is why one of the key feature of the phone is its Knox security offering. This offers consumers the ability to separate data on their smartphone between work and home containers. Why is this?
In a recent survey, it was revealed that phone calls has become only the fifth most popular feature on smartphones – first is browsing the web, second is using social media, third is playing music, and fourth is playing games, which means securing the device is fast becoming a very important factor. Users nowadays are using their smartphones, tablets and phablets not just for entertainment but more for work as well.
But let me say that Samsung has achieved one thing over the years which I think is very important to Samsung. I will even go to the extent of saying that this thing am about to say is really part of Samsung overall strategy – and that is brand awareness. The best proof here is the market's anticipation on what the Galaxy S4 has to offer. Not only that, Samsung has managed to convince the carriers, in the U.S. and around the world, to carry the Galaxy S4.
During the launch, Samsung was able to get 90,000 social media mentions in one hour, and that is big. 67% of which are positive, and only 33% are classified as negative. The top 5 feature that was talked about are the 13MP camera, S Translate, Group Play, Smart Scroll and Knox.
Where did the mentions came from? Well don't be surprised but the most online mentions came from the U.S. (54%), followed by Indonesia (6%), Thailand (4%), Spain (3%), and the U.K and Brazil (2.5%).
So Samsung has successfully achieved the brand awareness angle, now the next thing Samsung need to address is the brand experience and this will be known once the Galaxy S4 reached the hands of the users.
So to answer our main question, should Apple be worried? I would say Yes, Apple should be worried. But I hope Apple will be worried in a positive note. Competition is good and I believe Samsung is giving Apple a good competition. This should keep Apple in its toes to produce better products and better pricing. But is Apple really worried?
Let me just say this, on the eve of the Galaxy S4 launch, Apple's senior vice president of Worldwide Marketing, Phil Schiller spoke to mainstream news publications and said that Android is fragmented and not secure. Schiller said that Android users are often running old operating systems and that the fragmentation in the Android world was "plain and simple."
Apple also open a new web page enumerating why people have loved the iPhone and included some negative claims against Android and Samsung devices. So do you think Apple is worried? I will just let you decide.
But worried or not, what's happening is good for the consumer. Competition will drive better products and better price, and the consumer will definitely benefit from this regardless of who will emerge as the leader in the mobile space.
I am logging off. Stay cool and God Bless!
(Article written by Jerry Liao)