Lenovo(HKSE:992) (ADR: LNVGY) has rolled out new consumer laptops that once again challenge the norm in functionality, speed, and design. Lenovo YOGA 900 gives a new meaning to portability, with a flexible 360 hinge that adapts to users' diverse computing needs.Lenovo YOGA Tab 3 Pro boast a built-in 70′ projector and features four front facing powerful JBL speakers. Lenovo ideapad 500 has the Intel RealSense 3D Camera that responds to natural movements in three dimensions while Lenovo IdePad 100 secures your data with its Kensington MiniSaver cable rock ready ideacentre All-In-One (AIO), 700 is the All-In-One Entertainment center with top of class performance spreads across one amazing display.
"Our latest consumer lineup, which includes Lenovo YOGA Tab 3 Pro, Lenovo ideapad 500 Lenovo ideapad 100, and Lenovo ideacentre AIO 700 Desktop, suits different user requirements and multiple price points. Featuring robust computing power and exceptional speed, these computing devices complements Filipinos' multi-faceted lifestyle with enchanced ergonomics and impressive aesthetics,"said Michael Ngan, Country General Manager of Lenovo Philippines.
Lenovo YOGA 900 : Redefining ultraportability
Lenovo YOGA 900 weighing just 2.8 lbs and having a thickness of just 0.59″, turns head with its thin, elegant, and functional design. The world's thinnest Intel Core i convertible at 14.9mm, 1.29 kg boasts of a 360 watchaband hinge that allows users to bend, flip , and fold the 2-in-1. for a new way to experience apps. Featuring a QHD+ display with In-Plane Switching (IPS) technology, Lenovo YOGA 900 enhances users' multimedia experiences with vivid colors and a display that looks great from any angle. The convertible has stereo speakers and Dolby Home Theatre software, which bring movies, TV shows, and music to life.
Offering a full Windows 10 computing experience, up to 6th generation Intel Core i7 processors, and 256Gb of storage space, Lenovo YOGA 900 is also a powerful workstation as it is an entertainment hub. User can amp up their productivity with the Lenovo YOGA 900's improved keyboard and function row and enjoy web conferences and video chats with the convertible's intergrated webcam.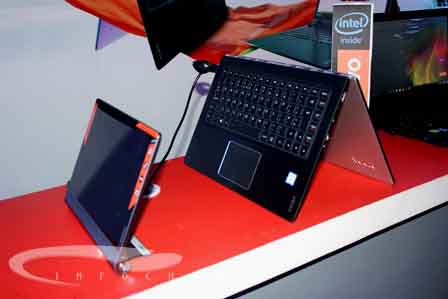 Lenovo Yoga Tab 3 Pro: The best entertainment tablet
The series premier offering – YOGA Tab 3 Pro – boast a built-in 70″ projector and is optimized for Netflix. The YOGA Tab 3 Pro features four front-facing powerful JBL speakers to reproduce high octane sound, and for the firts time ever, a virtualized Dolby Atmos experience over built-in speakers that creates sensation of sound moving in all three dimensions around the listener. The tablet comes loaded with a Netflix app to deliver personalized recommendations and content, right from the home screen of the tablet, ih high-quality optimized HD. The Yoga Tab 3 Pro also features Dolby Digital Plus, which Netflix streams with its HD content, allowing for crisper dialogue and immersive sound on Netflix.
The experience of watching Holywood blockbuster, playing video games and browsing the Web is vastly improved on th YOGA 3 Pro with its new 70″ screen. The tablet flaunts a better optimized projector placement and is now 180-degree rotatable to beam life-sized images onto a wall or ceiling and project significantly brighter and cinematic pictures up to 70″ wide. At 299 pixels per inch, the onboard 10.1′ QHD (2560×1600) screen is considerably sharper, and renders richer colors with its Smart Display technology.
Tablet users can immerse themselves in a cinematic sound without headpones through its powerful inbuilt JBL sound bar and Dolby Atmos technology – an industry first for tablets. To achieve even greater clarity and a louder output, the sound bar is also fitted with 4 front-facing speakers, which are fined-tuned with Wolfson Master Hi-Fi technology.
Sleek and exquisite, the YOGA Tab 3 Pro is carefully assembled with premium materials such as aluminum and a leather-like while maintaining its ultra-slim design. Splash proof and perfectly balanced for an uncompromised holding experience, the tablet truly shines in a sea of lesser tablets, given its versatility and long battery life to deliver all the power a user needs for all day use.
Loaded with Smart Window 2.0 for enchanced multitasking, users can now do more things, faster. The YOGA Tab 3 Pro allows you to run a background app as well as two window on top, with the added benefit of phone apps layout to easily fit everything on one screen. Email, news, YouTube enjoy it all at once.
Lenovo YOGA Tab 3 Pro is available in Puma Black
Lenovo ideapad 100 and ideapad 500 : A balance of price and performance
Far from being just an ordinary enrty-level laptop, the Lenovo ideapad 100 is packed with the most essential features for playing games, surfing the web and creating content. It features an Intel Pentium 3528u processor, 500 GB HDD storage and dedicated Nvidia Geforce Grapics, giving users a fast processor, ample storage, and solid display. The Lenovo ideapad 100 runs up to 4 hours without plugging in so users can work, browse, online, watch videos, and do more with minimal interruption. Measuring at just 20.2 mm for the 14 inch variant, the thin and sleek Lenovo Ideapad 100 ups the standard in entry-level laptops, with its classic ebony black finish.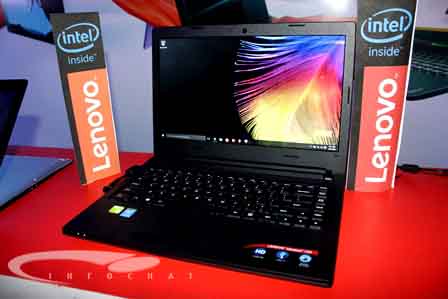 The Lenovo ideapad 500 has more that what meets the eye. It is powered by intel's 6th generation Intel Core i-series CPU for serious horsepower that makes switching to any task faster and efficient. It also has JBL Speaker with Dolby Advanced Audio certification and an Intel 3D Camera that sees more, understands, and responds to natural movement in three dimension making it the next-generation video chat. Make the most out of the Lenovo ideapad 500 with its dedicated graphics card to edit photos, render home movies, or play games.
ideacentre AIO 700: Home Entertainmnet Desktop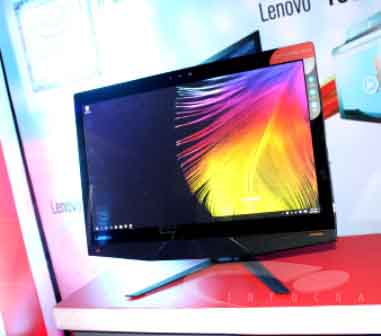 The new ideacentre AIO 700 powerful desktop boasts the latest 6th Gen Intel Core i7 processor, coupled with a stunning 24-inch FHD 10-point multitouch display with JBL stereo speakers for penetrating sound quality, and dedicated Nvidia GTX Graphics for a theatre like entertainment and realistic gaming experience. This all-in-one desktop has upgraded to up to twice the CPU performance, screen resolution and memory capacity as its three-year-old previous-generation- offering music and movie buffs double the incentive to refresh their hardware this season. A removable slip-off back panel provides the flexibility for tinkerers to quickly get under the hood and upgrade, expand or maintain their ideacentre AIO 700. The new AIO desktop comes with Intel RealSense Camera for users to engage more naturally with their PC and enjoy the next generation of users experiences with gestures through new 3D camera enabled applications.