Globe President and CEO Ernest Cu welcomed guests at the recently held Globe event where they announced their partnership with Star Wars: The Force Awakens
Fans and communities all over the world are gearing up for the much-awaited release of Star Wars: The force awakens. With a little over a month away before its premier in the Philippines,the Star Wars fever is definitely heating up with all the social media buzz and on-ground experience that Star Wars fanatics have been raving about.
Leading the pack is the country's purveyor of the Filipino digital lifestyle Globe Telecom,whose partnership with Disney Southeast Asia allows the leading telco to bring the Star Wars fever to a new level with a series of experiences and offerings in anticipation of the movie premiere this December.
Kicking off the excitement for Star Wars, Globe is transforming its generation 3 (GEN3) stores nationwide into a Star wars-themed hub with creative installations, exclusive Star Wars: Battle Pod arcade games, and premium collectible accessories, toys, gadgets up for grabs for all Star Wars fans.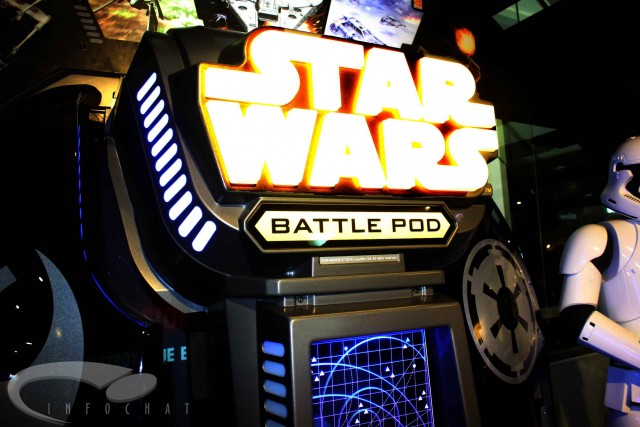 Starting November 4,2015, customers can visit the Globe GEN3 store at Greenbelt 4 in Makati to check out the Star Wars displays, play a few rounds on the Star Wars: Battle Pod, and start an exclusive collection of Star wars gadgets from the classics to the Force Awakens thematic design. GEN3's collection of Star Wars character flash drives, phone cases and power banks.
"Our collaboration with Disney and its brands such as Star Wars allows us to bring more wonderful experiences to our customers: from exclusive theatrical releases to innovative offerings. As the Star Wars fever heightens in the Philippines, we want to ensure that we do not just give our customers exclusive access to the premiere but also transport them into the Star Wars galaxy. From arcade games like the Star Wars: Battle Pod available in our GEN3 stores to gadgets and toys such as the BB-8 Droid by Sphero as part of our digital connectors line-up, we want our customers to be part of a complete Star Wars experience with all these offerings," said Dan Horan, Senior Advisor for Consumer Business at Globe.
Recently, Globe also announced the availability of the most in-demand Star Wars toy to-date, the BB-8 Droid by Sphero, in its GEN3 stores. Through an exclusive deal with the industry leading robotics toy company Sphero, Globe is the only telco company that carries this product in the country. Offered at P12,499.75. the BB-8 is iOS and Android-compatible, housed in a durable polycarbonate shell and boast of a Bluetooth smart BLE connection of up to a 100-feet range.
In May this year, Globe signed a comprehensive and multi-year collaboration with Disney Southeast Asia, giving customers access to video-on-demand, interactive content, theatricals, promotions and other related services across multiple devices..Globe customers will now have access to an array of Disney content offerings including long-and short-form programming, interactive and games, theatrical releases and retail promotions.