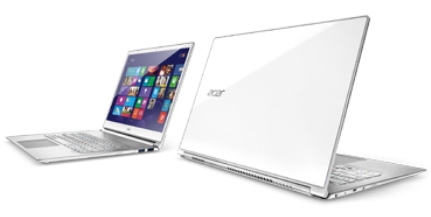 Absolutely sophisticated and undoubtedly powerful, that is the Acer Aspire S7. It is available in 13.3-inch and 11.6-inch models. Encased in white Gorilla Glass 2, the 13.3-inch model is just 11.9 mm thick. The 11.6-inch model is 12.2 mm thick and features a sleek aluminum body. The Acer Aspire S7 is the Ultrabook you will be proud to take anywhere you go.
The Acer Aspire 7 is powered by the 3rd Generation Intel Core Processor that guarantees the best overall performance you need in multitasking. Depending on your task, you can opt to use the keyboard or navigate the 10-point touch screen. The Acer Aspire 7 has a full HD (1920 x 1080) display.
Even if you are in the dark the Acer Aspire S7 is still there for you. Its electroluminescent backlit keyboard illuminates automatically giving you light that is very comfortable for your eyes. This feature allows you to keep on working even in the dark without irritating your eyes from too much brightness.
The Acer Aspire S7 breathes in and out to keep itself from heating up. It has two fans that work collaboratively–one pulling in cool air as the other one releases warm air. Feel free to lay the Ultrabook on your lap or under your palms without the worry of feeling the heat.