A606 Black
The age of smartphones and smart devices has already dawned and with it comes a bevy of choices that is aimed at catering to the users' needs. Each lifestyle has specific highlights—the starting professional needs a start-up companion smartphone, the powerful executive always carries the lifeblood device of the company, the fashionista, the hip or the meticulous need the mid-range that could meet the needs of both worlds.
Beyond better and adapting specs though, users can now keep connected with the world and with loved ones, thanks to the faster speeds that come with better technology. Lenovo's new LTE capable smartphones offers a great pick for each person, no matter which walk of life one is currently on the road for.
"There have been an increasing number of demands from smartphone consumers including a fast Internet connection. That's why Lenovo launched the Lenovo A606 and Lenovo S856 – two new smartphones that are LTE-capable for the consumers who are always on the go and always in dire need of an Internet connection especially a fast one. This release is still in adherence to Lenovo's mission to offer a wide variety of smartphones that suits our consumers' lifestyle and financial capacity.," Michael Ngan, Lenovo Philippines' Country General Manager stated.
Lenovo A606
Mid-range does not always mean a middle ground in terms of quality and features—sometimes, it may mean the middle where two great aspects of a smartphone can come together.
This is what mid-range means to the Lenovo A606, which packs a neat lineup of features: 1.3GHz quad-core processor, 1GB of RAM and 8GB of storage space that's expandable to 32GB via microSD slot. All of these work together to give users a pretty good and friendly user experience with the device.
The Lenovo A606 also features a 5-inch display, an 8-megapixel rear and a 2-megapixel front camera, 2000mAh battery and Lenovo's very own Do It Apps. The handset is available in white and black, and is available through authorized resellers of Open Communications, Lenovo's exclusive smartphone distributor in the country for Php9, 4999.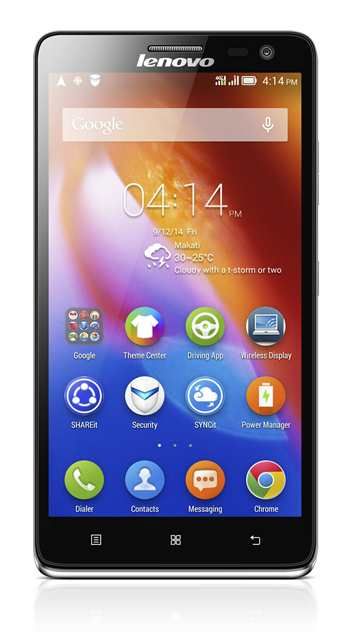 Lenovo S856
Lenovo S856
One of the bigger phones in the market, boasting a 5.5-inch HD display, the Lenovo S856 totters the ground between smartphone and phablet. Under the hood are some pretty competitive specs, including the 1.2GHz quad-core Snapdragon 400 chip that gives a smooth run, especially when combined with the Android Kitkat 4.4.2 OS that's installed in the device out of the box.
The Lenovo S856 also boasts a 1.2GHz quad-core Snapdragon processor, dual-SIM capability, Lenovo's Do It Apps, a 2500mAh battery and expandable 8GB of internal storage. For those who love to snap up some photos, the Lenovo S856 also has an 8-megapixelrear camera with LED flash and a 1.6-megapixel front camera.
Best of all, the Lenovo S856 has a premium feel to it, with its ergonomic polycarbonate body getting silver laser-etched treatment and being tough enough to resist scratches. Consumers can get the entire package of great specs and great looks for Php13, 999 at all authorized resellers of Open Communications.