The Samsung WB100 is the latest addition to the prestigious WB series, known for delivering superior quality images in compact form. Continuing to provide unparalleled image quality the WB100 is perfect for dynamic and inspirational shooting, capturing the smallest detail in stunning 16MP clarity.
The WB100 is a great travel companion, ideally designed to capture experiences from up-close detail of inspiring architecture, to impressive landscapes and vistas. The 26x optical high zoom lens and 22.3mm ultra wide-angle lens ensure flawless detail, while shaky shots are instantly altered with the Dual Image Stabilization (OIS + DIS)
function. With 720/30p HD video recording users can enjoy high-quality playback on the latest high-definition displays, whilst 3D photo capture and Live Panorama Mode truly bring to life 3D images and panoramic views.

Not only does the WB100 deliver superior quality images but it is also a pleasure to use. Its easily-navigated menu screen makes the WB100 a versatile and easy-to-use camera designed to capture clear, beautiful, mistake-free photos with ease.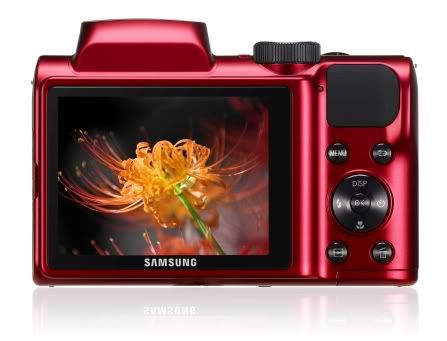 Available in Black or Red, it is a stylish and versatile tool with a range of creative features including Smart Filter and Magic Frame, designed to enhance image quality along with the shooting experience. The soft hand grip combined with the metallic design gives a sleek, seamless feel; attractive as well as ergonomically pleasing, its style compliments its comfortable handling.
Combining high image performance, creative functionality and aesthetic appeal, the WB100 is the ideal camera for those looking to capture their world in perfect detail, creating stunning images for only Php9990.